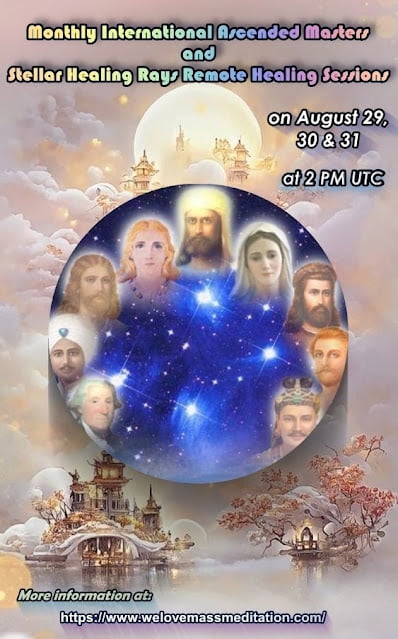 Monthly International Ascended Masters and Stellar Healing Rays Remote Healing Sessions
Every full Moon, the International Golden Age Group and Prepare For Change Japan Official offer remote healing sessions that can help people around the world to heal their inner being and mind. This is a gift to everyone and is free of charge.
https://www.welovemassmeditation.com/2018/08/monthly-ascended-masters-and-stellar.html
For the upcoming full Moon, three international remote healing sessions will be held at the time listed below:
First Day: Tuesday, August 29th from 2 PM to 2:30 PM UTC
At the aforementioned time, please go to the links above or visit their YouTube channel to access the remote healing.
https://www.youtube.com/channel/UCUXWdUM-4nolUoUYxv223MA
Here is the Facebook event for these international remote healing sessions:
https://www.facebook.com/events/448272154037009
You can find out more about these sessions from the following video:
And from the following page by the International Golden Age Group:
https://www.golden-ages.org/2016/12/23/monthly-ascended-masters-stellar-healing-rays-remote-healing/
Schedule

Guests

Attendance

Forecast

Comments
Weather data is currently not available for this location
Weather Report
Today stec_replace_today_date
stec_replace_current_summary_text
stec_replace_current_temp °stec_replace_current_temp_units
Wind stec_replace_current_wind stec_replace_current_wind_units stec_replace_current_wind_direction
Humidity stec_replace_current_humidity %
Feels like stec_replace_current_feels_like °stec_replace_current_temp_units
Powered by openweathermap.org