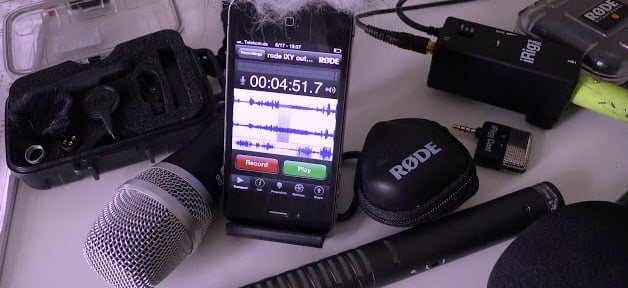 Everyone with a recent smartphone can now produce HD audio video wherever they have the opportunity to capture good information. What is especially interesting  is that there are apps available to convert those video clips into real videos with titles and transitions. On this page we have information and links to apps you can download for free or for a small fee. Please let us know if you like these and tell us how useful you found them to be.
Once you get a grasp on what can be done with your phone, you will want to visit some of the sites on the Internet specializing in producing video with a smartphones, such as this page on Onlinevideo.net or this one on Digital Photography Review
Below we have a couple of videos about creating quality video using your iPhone or other smartphone. Videos of this quality work fine for internet use, so please consider capturing events and information that you can share worldwide on PFC.
After the videos we have a list of apps for smartphones that range from free (mostly) to 12.99 (one). This is just to provide a glimpse of what is possible today.
Video Editing Apps for Mobile
No-one wants to watch that 30-minute video of your cat being mildly amusing, and even that minute-long clip of a drunken friend falling off of a chair is too long. But cut out the boring bits, drop in some transitions and add a soundtrack, and you've got social media gold. Possibly.
So whether you're a budding Hollywood director armed with a smartphone, or just someone who wants to make an Instagram clip look more Instagrammy, grab one of these editors and get cracking on your masterpiece. After all, you've only another 29-and-a-half minutes to chop out!
IMOVIE
Considered a benchmark release on iOS, and impressively similar to the Mac desktop version, iMovie should be on every iOS device. The app makes it ridiculously easy to splice together shot footage, but there's a lot more to it than that.
You can also use it to add titles, music, voiceovers and photos to your work of art – and if you want to cheese it up, take your pick from a bunch of TV-style templates and movie trailer themes. With the latest Apple kit, it'll even deal with 4K.
Download iMovie for iOS ($4.99)
POWERDIRECTOR
Android often ends up second-best when it comes to creative fare, but that's not the case with video. PowerDirector in many ways echoes iMovie, providing a user-friendly but powerful editor.
Clips can quickly be arranged and trimmed, titles can be added, and you get a decent set of transitions to experiment with. Pay the one-off IAP to rid your movies of watermarks and export at up to 1080p.
Download PowerDirector for Android (+ IAP)
PINNACLE STUDIO PRO
While iMovie is great at what it does, it's clearly geared towards casual use. If you want to take things to the next level, try Pinnacle Studio. This long-established editor – the desktop version has been around since the '90s – provides a wealth of powerful features.
Although editing is fast and intuitive, you get plenty of control over speed, transitions, picture-in-picture, pan-and-zoom, audio edits, and titles. It's the closest thing you'll get to a desktop-style video-editing app on your iPad.
Download Pinnacle Studio Pro for iOS ($12.99)
MOVIE EDIT TOUCH
This one shows that Windows Phone at least has the potential to match Android and iOS in the app stakes.
It's a generously featured video editor that works much like iMovie, allowing you to make frame-by-frame edits, join clips up with neat transitions, add titles and soundtracks, and export the results as HD movies. It's fast, well behaved and powerful.
Download Movie Edit Touch for Windows Phone
REPLAY
Designed for Instagrammers, but suitable for anyone with pics and videos sloshing about on their iOS device, Replay is about creating videos — fast. You decide on a selection, pick a theme and — BAM! — there's your masterpiece.
You can make a few tweaks — style; pace; font; filters; cuts. For the most part, though, this is all about letting an app take the strain, turning a pile of photos into a promo, or random baby videos into something guaranteed to make everyone blub.
CLIPS
If you want a bit more control over your iPhone videos, but don't fancy delving into the likes of iMovie, Clips is where it's at.
After importing videos and optionally selecting background music, you end up in the edit screen. You rearrange clips by dragging them up or down, and trim them using grab handles. Split, speed, crop and dissolve commands are a swipe or tap away, and completed movies can be shared or re-edited.
It's just about perfect, which is why it's hugely annoying Google's bought out the developer and put its apps on life support. Grab them all before February 2016, iOS users!
SPLICE
Given its impressive feature-set, you might sit down with Splice and wonder what the catch is. This entirely free (and ad-free) app enables you to import and arrange your clips, each of which can be individually edited.
You can add text, transitions, and filters; speed can be adjusted; and there are three audio tracks (including one for voiceovers). Destructive trimming within clip edits is the only real niggle, but otherwise Splice is great for quickly editing movies on your iPhone.
ADOBE PREMIERE CLIP
With Premiere's pedigree on the desktop, it's a bit odd to see the name used on mobile for such a comparatively simple product. But Premiere Clip gives you a straightforward means of arranging clips and exporting the result.
It's designed for speed, so isn't particularly feature-rich, but is a decent download for anyone heavily immersed in Creative Cloud — or Android owners wanting something quick, simple and free. (iOS owners should instead first check out the superior Splice.)
Download Adobe Premiere Clip for Android
Download Adobe Premiere Clip for iOS
MAGISTRO
This app comes across like an automated editor for anyone who considers using Replay a bit much effort. Point Magistro at a bunch of images and photos, pick a theme and some music, and then have a cup of tea. When you're done, Magistro will be too, and you'll have a highly animated short, based on the content you provided.
For free, movies are limited to a minute long. Pay for premium (from £3.99 per month) and you can create longer movies with more clips, and get unlimited downloads. If you only want to save the odd movie, you can do so at 79p a pop.
From http://www.stuff.tv/features/10-best-video-editing-apps-mobile