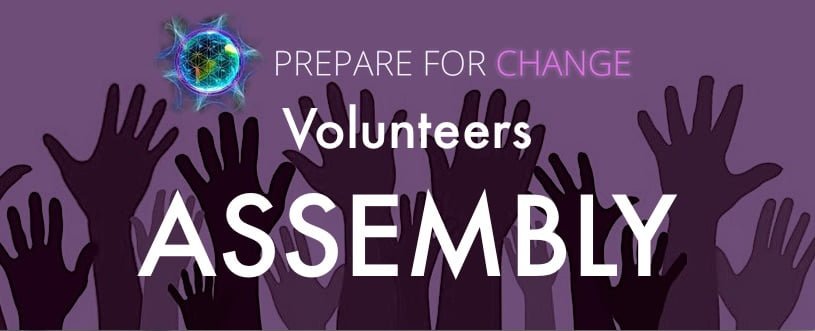 The Prepare for Change Volunteers Assembly
All Prepare for Change Volunteers are automatically members of the Volunteer Assembly, which was created to enable all PFC Volunteers to participate together to socialize, teach, share and self-organize to Prepare for the Event and to work on Change Projects.
All Volunteers are invited to attend our weekly Volunteers Social and Orientation meetings on Saturdays. We are choosing an 11 AM PDT start time in order to allow a reasonable time for those in Europe  to attend. We will begin the Orientation Phase of the meeting at 1 PM PDT to enable those in New Zealand, Australia, Japan, China and Taiwan to attend this vital two hour session during the early morning of Sunday.
---
 Welcome to Prepare for Change Volunteers Social (First Two Hours) and Orientation with Basic Information with Q & A (Beginning after the Social)
---
    Asamblea Semanal De Voluntarios En Español
        Haga click en este enlace los Sabados a partir de las 8:00 am PDT.
                      Utiliza Este Enlace Para Unirte A LaReunion: 
LA ASAMBLEA DE VOLUNTARIOS de Preparación para el Cambio PREPARE FOR CHANGE.NET organizo una Reunión en Idioma español, la cual se efectua los dias Sabados.
Utiliza este enlace para unirte a la reunión
https://zoom.us/j/879128704 y espere que el hospedador inicie.
Haga clic en este enlace los domingos a partir de las  8:00 AM PDT. Que serán:

MEXICO serán  las 10:00 am ,

CHILE                   12:00 horas,

VENEZUELA           11:00 horas .
Para saber la hora de la reunión en su Localidad solo tiene que poner en la BARRA DE GOOGLE 
8:00 AM PDT Y [ENTER] y este le dará automáticamente la hora.
Tenemos un líder de proyecto, pero tenemos que promover esto a todas las comunidades de habla hispana en todo el mundo.
Debido a que tenemos mucho que cubrir y discutir, las Conferencias de Orientación para la Asamblea de Voluntarios de Prepare For Change en español, serán el punto de entrada para conferencias más especializadas que enseñen temas actualmente importantes que se anunciarán cada sábado.
Tambien queremos voluntarios bien informados para crear un ambiente acogedor para nuestros miembros de todo el mundo. Si puede asistir, por favor márquelo en su calendario.
Si tiene alguna dificultad para entrar con el enlace de arriba favor de enviar un mail a [email protected] para enviarle la invitacion a la Asamblea.
El salon de reunion solo se abre media hora antes de la hora de inicio. 
Muchas gracias por su participación.
Cristina Valenzuela
Lider Asamblea  de Voluntarios de Prepare for Change en Español.
---
About the Prepare for Change Volunteers Assembly
The Prepare for Change Volunteers Assembly is the answer to expanding the Prepare for Change Mission to include a great variety of efforts to speed the arrival of the Event and allow everyone who wants to join PFC to have a role helping others. It is the answer to moving from a small group of people focused on the basic activities of operating a website to one of facilitating a global movement.
You have read the website and can see that our message is one of great change, change of our etheric reality, change of our perceptions about who we are, where we came from and what our future can be. The changes we discuss regarding the social control structures, available technology and ways of dealing with the most basic issues of life make adding Volunteers a very involved process.  This is being complicated by those who oppose free will and seek a world where humanity is ignorant and compliant, who now seek to use Disclosure and especially Total Disclosure to "freak out" the unawakened majority to create chaos, allowing them to reassert themselves as "saviors". It is the job of PFC to prevent this from working.
So it is very important for new members of  the team to ask and receive answers to many questions before the feel prepared to lead in their communities or even to do one of the many jobs that can make a difference for the Event.
PFC decided to create a Volunteer Form to help recruit leaders from the New Society Groups to join the council and represent the general membership with articles and input regarding all the issues we face, but the response to the Volunteer Form was much greater than that, in fact it began to have a life of its own, growing into a list of almost a thousand applicants today.
The new Volunteers range greatly in their abilities, skills and time they can contribute to PFC. Some are highly skilled professionals with time on weekends, while others are retired and will devote the equivalent of a full time job with that much attention too.  Many are young with work skills alone, but an enthusiasm that suggests they are in fact Star Seeds whose primary purpose for incarnation is to liberate our planet.
Everyone involved with Prepare for Change is a Volunteer that wants to contribute, and those of us who now work on the Website have been involved since the beginning, doing whatever needs to be done and often many, many things simultaneously. For this reason it has been a puzzle to involve others who need information with context and clarity in order to be comfortable with whatever job the choose to do.
Prior to this we attempted to involve new volunteers directly with the Council, but the Council meetings were never intended to be orientations or training programs, this effort created more confusion than forward progress. The Prepare for Change Assembly is meant to fulfill the expectations created by Volunteering for Prepare for Change.
Although Prepare for Change Council Members are still busy, this schedule for orientation of new Volunteers, and the presence of so many well qualified individuals allows us to have large online conferences that provide each person the opportunity to share a part of the whole that does make a complete picture.  Each Conference will have capable leaders with a broad perception of what is being discussed and within this system all new Volunteers will be able to gain the confidence to help Prepare for Change and make a difference in our world.
Because we have so much to cover and discuss, the Prepare for Change Volunteers Assembly Orientation Conferences will be the entry point to more specialized conferences teaching currently important topics that will be announced each Saturday.
Thanks for participating!
for the Prepare for Change Team