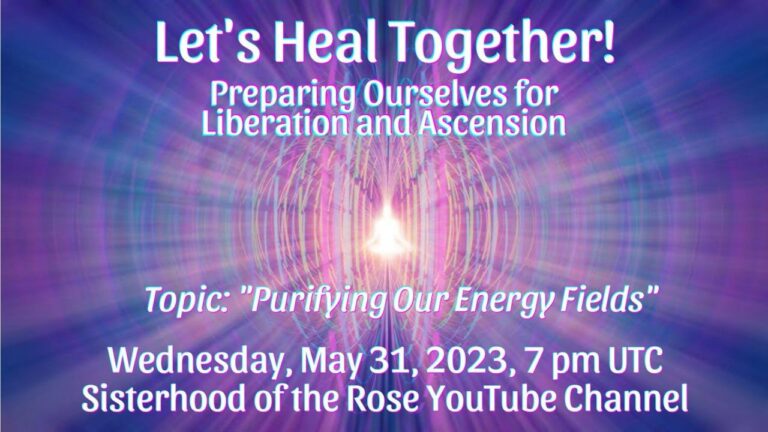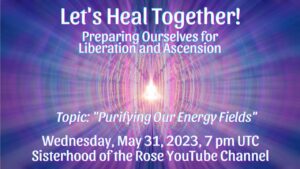 ✨FREE live healing session Wednesday, May 31st, at 7pm UTC to work together to heal ourselves and heal our world!
✨Theme for this session: PURIFYING OUR ENERGY FIELDS
The Portal of Light Activation on May 1st was a big success and made an impact on our energy fields, so let's continue to build and magnify this powerful energy while the portal is still open! Together we'll experience exercises, meditation, and tips to clear negative energies, attachments, shadows, implants, thoughts, and emotions to help keep our energy fields as purified and as high vibrational as possible!
In the recent Sisterhood of the Rose interview with Cobra, he indicated that when Pluto temporarily returns back into Capricorn on June 11th for the rest of the year, there will be a slight regress of these Portal of . Light energies. But this regress will actually be an opportunity for everybody to work on their shadows and prepare for the final push until the Event. So let's prepare ourselves with tools to assist us with our shadow work in the most efficient and harmonious way during this upcoming important time period!
✨Go here to join the LIVE session:
Sisterhood of the Rose YouTube Channel:
https://www.youtube.com/watch?v=cDil9QjxL4Q
Twitch users, you can join live at: https://www.twitch.tv/thesisterhoodoftherose
✨Date & Time: Wednesday, May 31, 2023, 7pm UTC/3pm EST/9pm CEST
Check time zones here: https://www.timeanddate.com/worldclock/fixedtime.html?msg=Let%27s+Heal+Together%3A+Purifying+Our+Energy+Fields&iso=20230531T19&p1=1440
(Please allow yourself approximately 2 hours for this experience)
✨Join us for meditations and group healing to more quickly and fully manifest individual, collective, and planetary liberation, as well as prepare ourselves for the Ascension process! At this pivotal time on the planet, it is of the utmost importance that we heal ourselves to be free of limiting beliefs, sabotaging behaviors, and lower vibrational frequencies, thoughts, and emotions.
✨Working together is very powerful, and the more people that attend, the more impactful it will be for all … so please spread the word!
✨Goddess wants Liberation and Ascension and So Shall It Be! Victory of the Light!
✨For more information on these sessions, please visit: https://www.welovemassmeditation.com/p/timetable-of-upcoming-implants-clearing.html
Schedule

Guests

Attendance

Forecast

Comments
Weather data is currently not available for this location
Weather Report
Today stec_replace_today_date
stec_replace_current_summary_text
stec_replace_current_temp °stec_replace_current_temp_units
Wind stec_replace_current_wind stec_replace_current_wind_units stec_replace_current_wind_direction
Humidity stec_replace_current_humidity %
Feels like stec_replace_current_feels_like °stec_replace_current_temp_units
Powered by openweathermap.org