Untwine is a tireless light worker whose efforts on behalf of the light are becoming legendary.  His travel and around the world to conduct ceremonies and perform rituals to liberate the vortex points of the Earth's grid of ley lines and sacred sites is playing a major role in the rise of the light on our planet.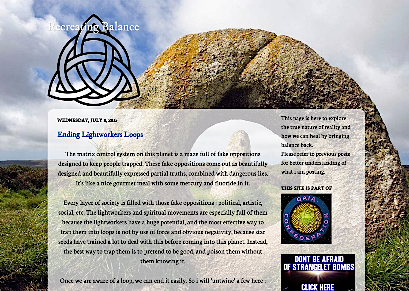 On December 21st 2012 he was one of the light workers conducting ceremonies at the Pyramid complex in Giza. Since then he has continued his work with other light workers in Asia, the Americas and Europe.
In March of 2015 he began to work with  Prepare for Change Network as the Leader of the Event Support Groups, and in that role has formed numerous ESGs during his travels in the US and Europe. He frequently posts to the PFC website in his role as Leader of the Event Support Groups.
He has his own blog Recreatingbalance.blogspot.com where he writes regularly about Decoding the Grid, Healing with Balance and his interviews with Cobra. In total to date he has 42 articles on his blog and they are all good information for light workers.
Untwine is a healer using sound and has a set of healing sounds using 432 hertz  which can be downloaded from his website.
07-12-15 Light Worker Untwine
To Listen via MP3format click below