http://www.greenmedinfo.com/blog/why-chemtrail-conspiracy-real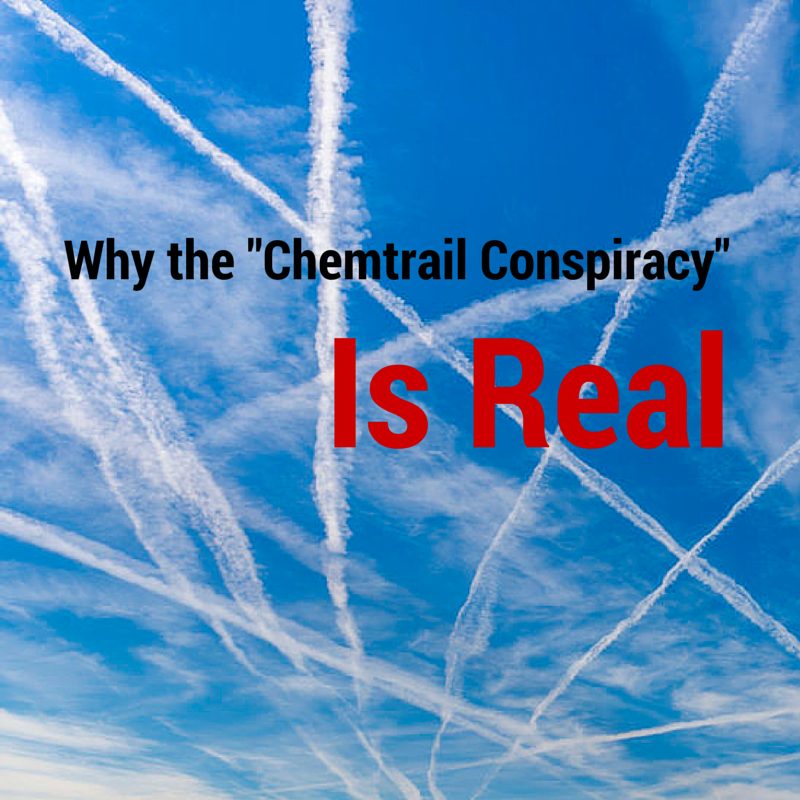 While any discussion of the "chemtrail" phenomenon today is immediately labeled conspiracy theory, a new study provides evidence that a global covert program is underway, made possible through political, commercial, and government interests working in collusion to release extremely toxic material into the atmosphere ostensibly to "combat global warming."
Admittedly, when the topic of "chemtrails" comes up, I get a bit uneasy.  Like connecting vaccines with autism, certain topics have been so loaded with misinformation for so long that writing about them automatically invokes the specter of controversy, and not open discussion, as would be expected if discovering the truth were a priority.
One highly marginalized but vocal sector of the population believes chemtrails are being sprayed on us like Raid on cockroaches by our invisible overlords to facilitate a depopulation agenda. On the other extreme are academics unashamedly publishing papers suggesting we should play God by using various geoengineering techniques with avowedly planet wide impacts to "combat global warming." Rarely, however, do we see anyone convincingly tying together the first-hand observational data with objective data, to prove that there is something in these persistent contrails other than frozen water vapor.
Thankfully, a groundbreaking study was recently published that did exactly this, bringing us closer to the truth than we have ever been before. The implications are simply profound and I believe may foment greatly expanded awareness and activism on the topic.
New Research Proves Coal Fly Ash Is The Source Material for "Chemtrails"
The new study published in the International Journal of Environmental Research and Public Healthtitled, "Evidence of Coal-Fly-Ash Toxic Chemical Geoengineering in the Troposphere: Consequences for Public Health," offers a convincing explanation for what is behind the so-called "chemtrail" phenomenon, revealing that the source material used to create artificial weather visible throughout the world is the extremely toxic waste material from the electric industry known as coal fly ash.
If you are not already aware, "chemtrail" is a colloquial term used to describe the persistent contrails, presumably laden with "chemicals," observed issuing from aircraft that result in the formation of artificial cloud patterns and weather. Their existence has been almost universally written off as "conspiracy theory" by the media and government despite global evidence – as clear as day – that the weather is being manipulated with aerosols, presumably for geoengineering purposes intended to offset global warming.
The new study, authored by San Diego resident J. Marvin Herndon, was initiated after he witnessed his region being sprayed daily by an, as of then, unidentified aerosol:
"In the spring of 2014, the author began to notice tanker-jets quite often producing white trails across the cloudless blue sky over San Diego, California. The aerosol spraying that was happening with increasing frequency was a relatively new phenomenon there. The dry warm air above San Diego is not conducive to the formation of jet contrails, which are ice condensate. By November 2014 the tanker-jets were busy every day crisscrossing the sky spraying their aerial graffiti. In a matter of minutes, the aerosol trails exiting the tanker-jets would start to diffuse, eventually forming cirrus-like clouds that further diffuse to form a white haze that scattered sunlight, often occluding or dimming the sun. Aerosol spraying was occasionally so intense as to make the otherwise cloudless blue sky overcast, some areas of sky turning brownish (Figure 1). Sometimes the navigation lights of the tanker-jets were visible as they worked at night, their trails obscuring the stars overhead; by dawn the normally clear-blue morning sky already had a milky white haze. Regardless, aerosol spraying often continued throughout the day. The necessity for daily aerosol emplacement stems from the relatively low spraying-altitudes in the troposphere where mixing with air readily occurs bringing down the aerosolized particulates and exposing humanity and Earth's biota to the fine-grained substance. The author's concern about the daily exposure to ultra-fine airborne particulate matter of undisclosed composition and its concomitant effect on the health of his family and public health in general prompted the research reported here."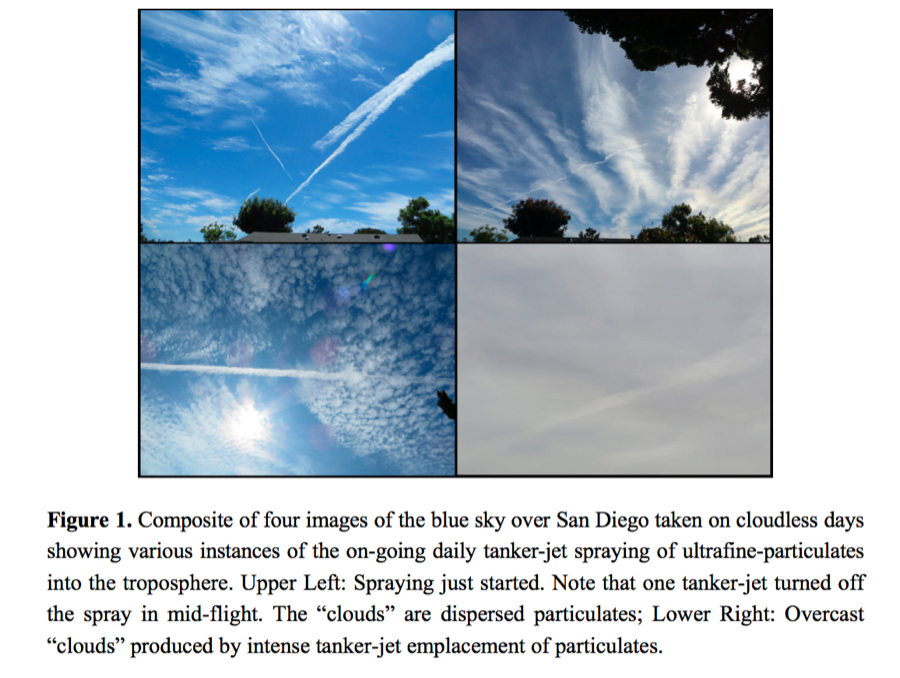 The Long History of Covert Geoengineering Programs
For those who have not witnessed the "chemtrail" phenomenon directly, it would be easy to write off this author's testimony as dubious or merely anecdotal. But the author rightly points out that there is already extensive evidence in the historical record of covert geoengineering programs, and which he summarizes thusly:
"Geoengineering, also called weather-modification, has been carried out for decades at much lower altitudes in the troposphere. The recent calls for open discussion of climate control or geoengineering tend to obscure the fact that the world's military and civilian sectors have modified atmospheric conditions for many decades as has been described by science historian, James R. Fleming [4]. Some of the early weather-modification research resulted in programs like Project Skywater (1961–1988), the U.S. Bureau of Reclamation's effort to engineer "the rivers of the sky"; the U.S. Army's Operation Ranch Hand (1961–1971), in which the herbicide Agent Orange was an infamous part; and its Project Popeye (1967–1971), used to "make mud, not war" over the Ho Chi Minh Trail. These few examples of weather-modification, all of them secret at the time they were engaged, show that the weather is in the words of the military, "a force multiplier" [5]."
The fact is that we don't need to speculate about whether these covert programs are still happening, because the evidence is "hidden out in plain sight" for millions to see on a daily basis.  [Note: I highly suggest you watch "Artificial Clouds," to get a primer on the difference between naturally occurring contrails and "chemtrails."]
The real questions here are: What is being sprayed? Who is behind the program? Why is there no public discussion of the program and its implications to human and environmental health?
Coal Fly Ash "Is More Toxic Than Radioactive Waste"
While it is clear that weather modification programs focused on enhanced precipitation are being conducted across the country using silver iodide, as recently exposed by our contributor Dave Dahl's documentary "Artificial Clouds," and that the result is global changes in weather patterns, exemplified by the temperature changes observed after the post-9/11 airplane grounding, the global geoengineering program appears to be a far greater threat to planetary health.
What Herndon's research uncovered is that, "[T]oxic coal combustion fly ash is the most likely aerosolized particulate sprayed by tanker-jets for geoengineering, weather-modification and climate-modification purposes and describes some of the multifold consequences on public health."
He arrived at this conclusion through the following methods:
"Two methods are employed: (1) Comparison of 8 elements analyzed in rainwater, leached from aerosolized particulates, with corresponding elements leached into water from coal fly ash in published laboratory experiments, and (2) Comparison of 14 elements analyzed in dust collected outdoors on a high-efficiency particulate air (HEPA) filter with corresponding elements analyzed in un-leached coal fly ash material. The results show: (1) the assemblage of elements in rainwater and in the corresponding experimental leachate are essentially identical. At a 99% confidence interval, they have identical means (T-test) and identical variances (F-test); and (2) the assemblage of elements in the HEPA dust and in the corresponding average un-leached coal fly ash are likewise essentially identical."
http://www.greenmedinfo.com/blog/why-chemtrail-conspiracy-real?page=2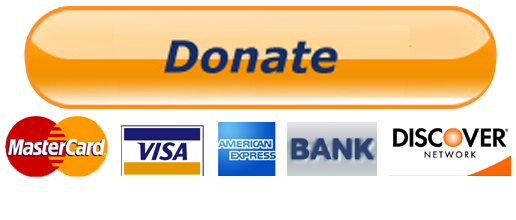 Your Tax Free Donations Are Appreciated and Help Fund our Volunteer Website and Orphanage
Disclaimer: We at Prepare for Change (PFC) bring you information that is not offered by the mainstream news, and therefore may seem controversial. The opinions, views, statements, and/or information we present are not necessarily promoted, endorsed, espoused, or agreed to by Prepare for Change, its leadership Council, members, those who work with PFC, or those who read its content. However, they are hopefully provocative. Please use discernment! Use logical thinking, your own intuition and your own connection with Source, Spirit and Natural Laws to help you determine what is true and what is not. By sharing information and seeding dialogue, it is our goal to raise consciousness and awareness of higher truths to free us from enslavement of the matrix in this material realm.