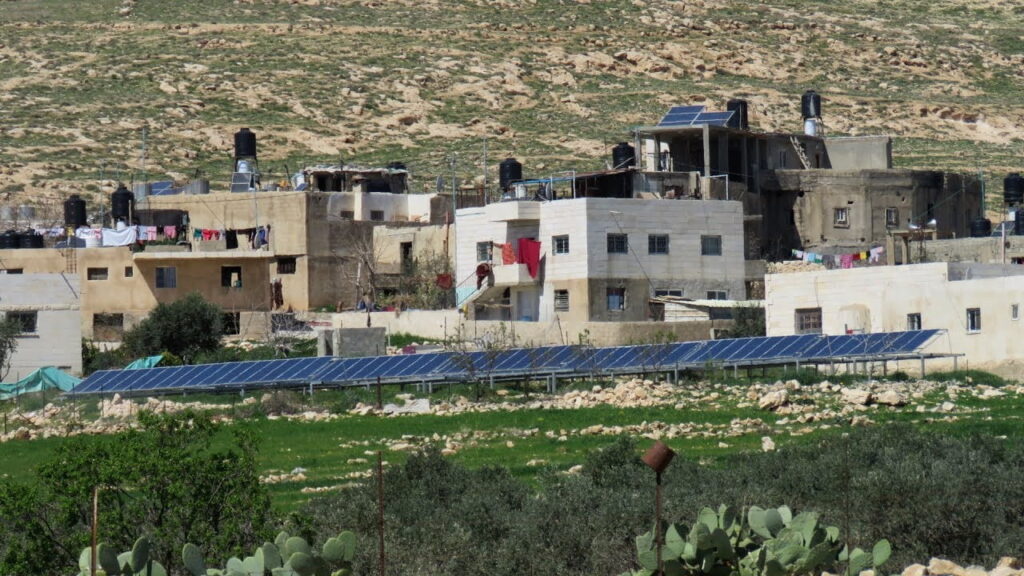 The Palestinian village of Jub a-Dib lies southeast of Bethlehem in the West Bank. It was established in 1929 and is currently home to some 160 people. In the past, residents subsisted on farming and shepherding, but today the village relies mainly on young residents who work in Israel. In addition to homes, the village has a grocery store, a sewing shop, a mosque and a kindergarten. A mobile medical clinic visits the village once a week.
Israel does not deny the legality of the village but has never drawn up an outline plan for it, as with other Palestinian villages in Area C. Israel even rejected a plan prepared by the joint council of Jub a-Dib and the neighboring village of Za'tara. Since the 1980s, the residents of Jub a-Dib have filed several requests with the Civil Administration to hook the village up to the power grid. All were rejected on the grounds that the village does not have an outline plan.
In 2009, the residents bought three generators with the aid of the Palestinian Authority. However, these suffice only to provide lighting for eight hours a night, are very noisy and require expensive fuel. The residents requested assistance from several humanitarian organizations to purchase solar panels as an alternative means of generating electricity.
In November 2016, Israeli-Palestinian nonprofit Comet-ME installed 96 solar panels in the village financed by the Dutch government. For the first time, the residents were able to enjoy a constant supply of electricity.
On the morning of 28 June 2017, Israeli military and Civil Administration forces came to the village. Soldiers erected a checkpoint at the main entrance and prevented anyone from entering or leaving. Other forces went over to the solar panels and began dismantling them and placing them in a tow truck. The soldiers also confiscated electronic equipment from the power room.
As the forces were about to leave the village, the head of the village council, Ibrahim al-Wahsh, asked them on what grounds they were confiscating the panels. One of the Civil Administration officials presented him with two cease-work orders – the first for the power room and the second for the stands on which the solar panels were placed. The forces also presented al-Wahsh with two confiscation orders relating to the 96 solar panels, four computer panels, and 12 fuses on the electric panel.
For decades, it has been Israel's policy to systematically harass Palestinians in many parts of the West Bank in order to encourage them to leave their homes. To that end, Israel makes formalistic use of legal and planning tools it has adopted. Under the guise of law enforcement, Israel is applying a cruel policy that is inherently immoral and illegal. Israel not only shirks its responsibility to provide Palestinian communities in Area C with basic services, it also thwarts any attempt by local leadership to attain alternative services via international aid by sending in forces to destroy or confiscate donated equipment.
B'Tselem field researchers Manal a-Ja'bri and Musa Abu Hashhash visited the village on 28-29 June 2017, and gathered testimonies from residents on the implications of the confiscation.
Ne'meh al-Wahsh, 32, a married mother of five who owns the only grocery store in the village, described the moments after the confiscation and its effect on her life:
Two years ago, I applied to the Assistance Fund for Farmers in Bethlehem for a grant to help me open a small grocery store in our village, so I could augment the family income. My husband works as a laborer in Israel. They gave me 1,000 euros, which I used to start the store. Slowly, I developed the business. I sell food and essentials such as household goods and detergents. I also bought refrigerators for dairy products, ice-cream, drinks and other goods that have to be kept cold or frozen.

On the day they confiscated the solar panels, I sat at the entrance to my store, crying and wondering what I would do. I invested 500 shekels (~140 USD) in buying ice-cream for the high holiday [Ramadan] that I haven't sold yet. The refrigerators were full of dairy products and frozen vegetables. I had to take all the refrigerated and frozen goods and take them to the neighboring village, Za'tara. I sold whatever I could at half price to the grocery stores there.

Cutting off the power to our house and to the store has directly damaged our income and daily life. My children got used to spending the holidays in front of the TV, and now they're playing outside in the sweltering heat again. I can't keep them inside because they have nothing to do here, with no TV or internet. Also, I'll have to start washing our clothes by hand again.

I don't know how we'll go back to living without a fan, now that it's so hot. I was sad to see the children bored yesterday, and having a hard time falling asleep because of the heat.
Hanin al-Wahsh, 20, an art, photography and film editing student, explained how the confiscation of the solar panels has disrupted her life:
Seven months ago, our village was connected to a regular power supply through solar panels. That helped me because I really need electricity for my studies, for example in order to use a computer. Until then I had to stay at college until late, and sometimes at night, in order to use the computer. So I was really glad when they connected our home to the electric supply.

After the connection I could work on the computer at home, and when it was hot I could put a fan on. I spent hours working at home, downloading projects and uploading photos and video clips.

The general quality of life at home improved. We bought a fridge and a washing machine. Until then my mother had worked very hard to wash all our clothes and suffered from that. We also began to watch television together as a family and to surf the internet.

We were very happy – until yesterday, 28 June 2017. The Civil Administration and the army arrived, dismantled the solar panels, and left the village without electricity. I saw it happening and tried to document what they were doing, but one of the soldiers got in my way, so I only managed to document part of the incident.

After they dismantled the solar panels I was in a state of shock. I was so disappointed. I thought about how much my family has suffered over the years because of the lack of electricity – how we spent the nights in darkness and suffered in the heat without fans. Worst of all, I thought about how I'd have to stay late at college again to study and work on my projects, and find a way to get back to my remote village that doesn't have any public transportation.

Now things will be hard for me again. I don't know what I'll do until I finish my studies next year.

I saw how angry, helpless and despairing the villagers were. In just a few hours they pushed us back to the past. I don't understand why this is happening to us – we deserve to get electricity just like other people. I don't understand why a regular electricity supply threatens the security of the State of Israel.

One of the hardest things for me is that I can't regularly use my smartphone, because I don't have any way to charge it. I don't even know how I'll manage to get to sleep without a fan in this heat, which is getting worse every year. We don't even have cold water to drink when it's hot. I feel frustrated, helpless and sad about what's happening. I hope our village will get its electricity back as soon as possible.
'Amar al-Wahsh, 45, a married father of five and electrician:
[After the panels were installed in November 2016], it was the first time the village had electricity around the clock. Even then, the power supply was limited to lighting and ordinary domestic appliances such as fridges and washing machines. It wasn't strong enough for appliances that generate a lot of heat such as heaters, ovens or even irons. Even so, we were happy because at least we had a constant supply. Our quality of life improved – people could use fans, washing machines, fridges and computers.

It's important to add that we didn't get the electricity for free. Every family paid a shekel (~30 cents) per kilowatt. The Women's Association in the village collected the money, supervised the project, and dealt with the maintenance of the panels, the cables and the other equipment.

After the panels were installed, aid organizations helped the residents buy fridges at very low prices and donated a computer to the village kindergarten. The residents also began to buy televisions and computers and hooked up to the internet.

The stands from which the confiscated solar panels were removed. Photo: Manal al-Ja'abari, B'Tselem, 29 June 1997
mana al-Wahsh, 44, a married mother of five and activist who took part in founding the Women's Association in the village, stated:
I was born here, in the village, when there wasn't any electricity. I got married and had children without electricity, and that's how I spent my early years as a wife and mother. We led a primitive life. I washed clothes by hand and did all the housework without any electrical appliances. It was really hard.

About two years ago, we founded a Women's Association called al-Jam'iyeh a-Nasawiyeh. We raised funds from humanitarian aid organizations that helped us set up a sewing project for women, a grocery store and a kindergarten. We also worked with the other residents to get aid so that we could connect the village to electricity using solar panels.

On 28 November 2016, we began to get electricity from the solar panels for all the homes in the village, including my own. That meant that I could use my sewing machine and help increase my family's income. It also made the housework easier, such as making food or doing laundry. I bought a fridge, a washing machine, a blender and a modern TV. I began to store food in the fridge. We put in fans to help cool the house and I was really happy. I began to enjoy my spare time at home and had more time to talk with my children and my husband. Before, when we only had electricity from generators for a few hours a night, I was busy day and night.

Yesterday, after they confiscated the panels, I felt helpless, sad and frustrated. I felt that we were returning to a primitive way of life after getting used to easier living.

For the first time in ages, I had to wash the children's clothes by hand. My hands hurt so much that yesterday I couldn't get to sleep. My husband and my sons had a really hard time with the heat at night. My youngest boy slept on the floor, without any cover, because he was so hot. I couldn't sleep at all. Yesterday we had to eat all the food from the freezer.

What have we and our children done wrong? Why cut off our electricity? I don't know what to do other than accept the situation and wait.
Source: http://www.btselem.org/planning_and_building/confiscation_of_solar_panels_in_jub_a_dib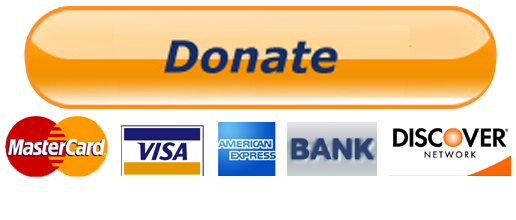 Your Tax Free Donations Are Appreciated and Help Fund our Volunteer Website and Orphanage
Disclaimer: We at Prepare for Change (PFC) bring you information that is not offered by the mainstream news, and therefore may seem controversial. The opinions, views, statements, and/or information we present are not necessarily promoted, endorsed, espoused, or agreed to by Prepare for Change, its leadership Council, members, those who work with PFC, or those who read its content. However, they are hopefully provocative. Please use discernment! Use logical thinking, your own intuition and your own connection with Source, Spirit and Natural Laws to help you determine what is true and what is not. By sharing information and seeding dialogue, it is our goal to raise consciousness and awareness of higher truths to free us from enslavement of the matrix in this material realm.