Prepare for Change Los Angeles
Eduardo Hernandez and Ed Spina have announced that they are hosting a regular meeting of the Prepare for Change Network every Sunday on Los Angeles city.
The first meeting will be on this Sunday, September 29 at 11h AM.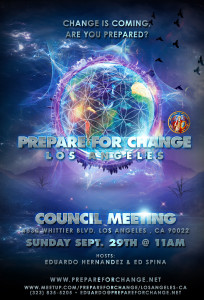 After this first meeting, the group will organize weekly meetings on every Sundays. The location may vary from week to week as the group grows, so please check the Facebook Page listed on the page graphic.