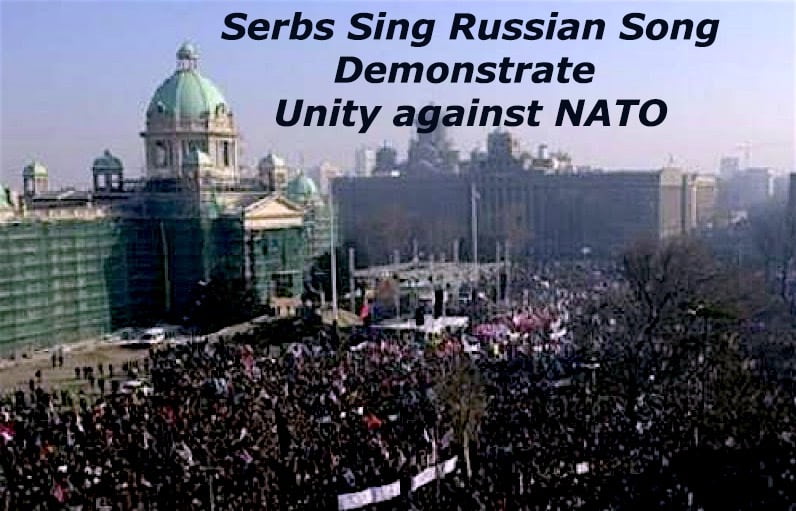 Watch the videos below to see exhibitions of Unity agains NATO.  So admired is Russia for standing up to the aggression against the many nations of the world, that they have gathered together to sing the Russian song The Sacred War, an anthem to the Resistance of Fascism. While the media of the west ignores the obvious crimes perpetrated by what has become known all over the world as the Khazarian Satanic Mafia, the people and media in the nations not controlled by them is calling them out.
While NATO has seduced the leadership of Serbia, activists of the Serbian patriotic organizations held on Saturday, February 20, 2016 the massive march and rally in in Belgrade with slogans in support of Russia and against NATO. The Serbs sing a Russian song,  The Sacred War, in Russian. Singing publicly this song, The Sacred War, means for Slavic countries and some other countries in the world TO STAND UP WITH RUSSIA!
Below is a version from an orchestral presentation recorded with English subtitles so you can know what they are saying. This video has been telecast several times.
https://www.youtube.com/watch?v=0X4shqmbkAI.youtube.com/watch?v=oGhpSsljh_Q
The following video is the same song being sung in the Russian language by Bulgarians while demonstrating against their nations cooperation with NATO in Bucharest on November 28, 2015.
Here is a video of a demonstration by 50,000 people from Crimea. Be patient, the singing does not start until about a minute into the video.
And now a beautiful rendition of the song the Sacred War, by theChoir of the China People's Armed Police. It's not a demonstration, but it is quite beautiful.
In order to gain perspective on why this song is important to Russians, the video below is from film footage shot of a parade in Moscow in 1941, after the parade the Russians continued to the front and defeated the Nazies