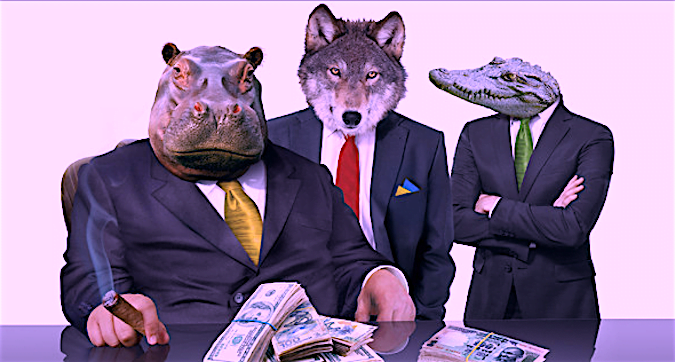 Many of you have already read this past Sunday's (August 7, 2016) excellent and deeply disturbing article published by the New York Times regarding the shady and inappropriate activities regularly conducted by U.S. "think tanks." If you haven't read it yet, I highly suggest you take the time to do so.
It's important to acknowledge that the U.S. economy has morphed into one gigantic lawless crime scene. An environment in which crony insiders who add zero value to society parasitically feast on the country's treasure. In the case of so-called "think tanks," we have organizations receiving copious taxpayer subsidies for the privilege of screwing over the American public.
To understand the topic further, I present you with some excerpts from the article titled, Researchers or Corporate Allies? Think Tanks Blur the Line:
Think tanks, which position themselves as "universities without students," have power in government policy debates because they are seen as researchers independent of moneyed interests. But in the chase for funds, think tanks are pushing agendas important to corporate donors, at times blurring the line between researchers and lobbyists. And they are doing so while reaping the benefits of their tax-exempt status, sometimes without disclosing their connections to corporate interests.
Thousands of pages of internal memos and confidential correspondence between Brookings and other donors — like JPMorgan Chase, the nation's largest bank; K.K.R., the global investment firm; Microsoft, the software giant; and Hitachi, the Japanese conglomerate — show that financial support often came with assurances from Brookings that it would provide "donation benefits," including setting up events featuring corporate executives with government officials, according to documents obtained by The New York Times and the New England Center for Investigative Reporting.
"This is about giant corporations who figured out that by spending, hey, a few tens of millions of dollars, if they can influence outcomes here in Washington, they can make billions of dollars," said Senator Elizabeth Warren, Democrat of Massachusetts, a frequent critic of undisclosed Wall Street donations to think tanks.
Washington has seen a proliferation of think tanks, particularly small institutions with narrow interests tied to specific industries. At the same time, the brand names of the field have experienced explosive growth. Brookings's annual budget has doubled in the last decade, to $100 million. The American Enterprise Institute is spending at least $80 million on a new headquarters in Washington, not far from where the Center for Strategic and International Studies built a $100 million office tower.
The U.S. economy would be infinitely better if everyone in Washington D.C. blasted off to space in a rocket ship.
The likely conclusions of some think tank reports, documents show, are discussed with donors — or even potential ones — before the research is complete. Drafts of the studies have been shared with donors whose opinions have then helped shape final reports. Donors have outlined how the resulting scholarship will be used as part of broader lobbying efforts. The think tanks also help donors promote their corporate brands, as Brookings does with JPMorgan Chase, whose $15.5 million contribution is the largest by a private corporation in the institution's history. 
Despite these benefits, corporations can write off the donations as charitable contributions. Some tax experts say these arrangements may amount to improper subsidies by taxpayers if think tanks are providing specific services.
"People think of think tanks as do-gooders, uncompromised and not bought like others in the political class," said Bill Goodfellow, the executive director of the Center for International Policy, a Washington-based think tank. "But it's absurd to suggest that donors don't have influence. The danger is we in the think tank world are being corrupted in the same way as the political world. And all of us should be worried about it."
Indeed, "think tanks" represent a key, overlooked player in the never-ending information war being waged against the American public. A war specifically designed to shape public perception in favor of policies that go against our best interests while making a handful of people extremely wealthy.
"We strongly believe in our model of seeking solutions to some of our country's most difficult problems," John J. Hamre, the chief executive at C.S.I.S., said in a written reply to questions. "We gather stakeholders, vet ideas, find areas of agreement and highlight areas of disagreement." 
Emphasis on "stakeholders," i.e. corporate sponsors. If these think tanks are actually working in the best interests of the country, why is inequality soaring and why has the middle class been destroyed so efficiently?
Yet researchers at think tanks are seeing corporate influence firsthand. Rachel Stohl, a senior associate at the Stimson Center in Washington, said she had been quizzed by potential donors as she tried to raise money for research on the military's use of armed drones.
"'Are you going to say drones are bad?'" she recalled one potential financial backer asking. "'We are not interested in funding something that says drones are bad.'"
The confidential Brookings spreadsheet had an unassuming title: Corporate Overviews Tracking. It listed nearly 90 corporations, from Alcoa to Wells Fargo, providing a glimpse of the vast electronic file that Brookings maintained on donors and prospects, and the benefits it might offer.
The database, along with thousands of pages of emails, solicitations for money and memos on meetings with corporate officials, highlighted Brookings's practice of assuring that donors would see results from their contributions.
So why exactly are taxpayers subsidizing this behavior?
K.K.R., after starting special funds around 2010 to invest in real estate and other infrastructure projects, donated $450,000 to Brookings, some of it as the institution agreed to set up meetings for a top K.K.R. executive with community leaders in Philadelphia and Detroit, where the company was considering real estate projects. Brookings separately produced a report, published on K.K.R.'s website, promoting one of the company's infrastructure projects in New Jersey, after the company executive suggested such a piece.
Lennar joined Brookings's Metropolitan Leadership Council, established for the program's top donors, in July 2010. That month, the company won approval to redevelop Hunters Point in San Francisco, turning the area into a more than 700-acre mix of housing, education and commercial development. 
Brookings would later name the project one of the three most "transformative investments in the United States." 
The San Francisco project generated controversy from the beginning, with critics concerned about toxic waste left by the former Navy shipyard.
Follow-up memos were more explicit: Brookings, as it sought an additional $50,000 from Lennar in 2014, said it was prepared to "use our convening power, research expertise, network connections and knowledge of innovative practices to help further drive the ultimate impact and success" of Lennar's project and to "provide public validation of San Francisco's efforts through national and local media coverage." 
The think tank soon delivered.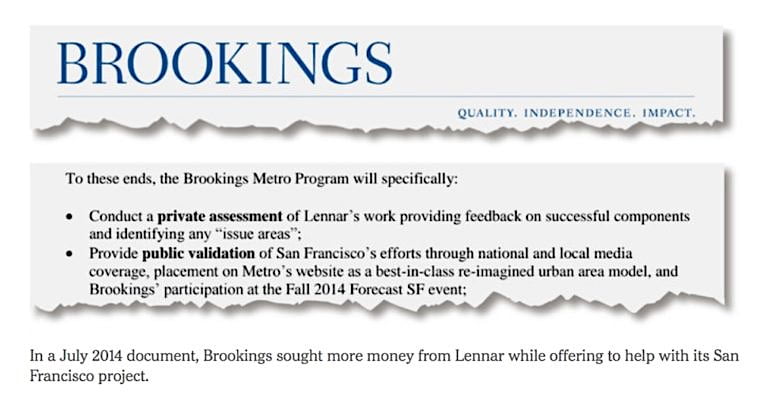 All this corporate marketing paid for with taxpayer subsidies. Good gig if you can get it.
Hitachi has been another large donor to the metropolitan program, giving a total of $1.8 million to Brookings over the last decade, according to Brookings documents. The think tank reviewed the company's corporate marketing and sales strategy targeting the United States, an internal memo shows. Brookings also organized public events that featured top Obama administration officials and allowed Hitachi executives to promote their products.
When JPMorgan offered a major donation to the metropolitan program in 2011, Brookings created the Global Cities Initiative, complete with a new logo that called it a "joint project of Brookings and JPMorgan Chase." 
The project was premised on a common interest between the bank and the think tank. Brookings wanted to promote economic growth in cities by encouraging international trade, and JPMorgan wanted to gain new business by offering loans to companies in the same markets.
Mr. Indyk and executives from JPMorgan said the company and the think tank simply agreed on a worthy agenda. 
"This was about growing the economy, and we are incredibly proud of the results of this initiative," said Peter Scher, the head of the corporate responsibility program at JPMorgan. "We believe it's had a huge impact in more than 30 cities that are involved."
At the same time, hundreds of pages of memos — status reports to JPMorgan, internal reports by Brookings staff to prepare for meetings with top bank executives, and formal documents soliciting more money — make clear that Brookings saw the Global Cities Initiative as a branding effort that could help JPMorgan bolster its standing in cities.
"Bottom line: Growing metro economies is good for the nation and for JPMC; also, many U.S. cities are JPMC clients — motivation to support them and their clients," said one Brookings document dated July 2011, as officials from the think tank met with top bank executives to discuss a planned donation that eventually totaled $15 million.
The Global Cities Initiative, another document written by a Brookings senior fellow explained, "must mean a marriage between JPMC corporate interests" and "Brookings continued thought leadership."
JPMorgan, in a document dated a month before the agreement was signed, said the pending donation to Brookings "deepens/extends relationships with important client base among business and civic leaders both in the U.S. and abroad."
At times, Brookings officials seemed worried they were not doing enough for the bank.
This is all so gross…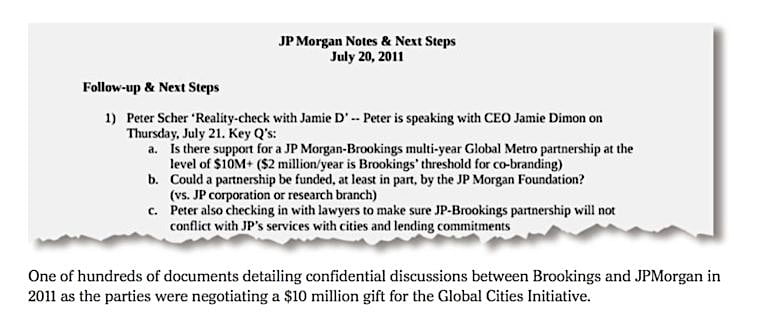 Donations from the corporations to Brookings are tax exempt based on the premise that the think tank's work benefits the public good, not a company's bottom line. 
But two lawyers who specialize in nonprofit law — Miranda Perry Fleischer, a professor at the University of San Diego School of Law, and Clifford Perlman, a partner at a New York-based firm — said Brookings's agreements raised questions.
"Tax deductions are subsidies that are paid for by all taxpayers," Ms. Fleischer said. "And the reason the subsidy is provided is that the charitable organization is supposed to be doing something for the public good, not that specifically benefits the private individual or corporation in the form of providing them goods or services."
Apparently "the public good" now equals helping big cities and big banks. You know, those suffering the most from American neo-feudalism.
While all the above is disgusting and unacceptable, what follows is even worse. It shows how the corruption and cronyism of think tanks can directly lead to the exportation of war and death abroad.
General Atomics, the California-based manufacturer of Predator drones, had a clear problem. Prospects for sales were falling as the wars in Afghanistan and Iraq wound down. The company wanted the Obama administration to change its policy to allow for sales to other countries, a lucrative proposition.
"When the budgets are going down in the U.S., you would like to be able to export more," Frank Pace, the president of the company's aircraft systems group, told a Reuters reporter in late 2013 at an air show in Dubai.
How this man lives with himself, I'll never know.
At about that time, the industry turned to the Center for Strategic and International Studies for help, providing money that the think tank used to conduct a study on drone policy, including exports.
C.S.I.S. set up confidential meetings at its headquarters with company representatives, inviting top officials from the Navy, the Air Force, the Marine Corps, the Coast Guard, the State Department and the office of the defense secretary, according to emails and other documents obtained by The Times through open records requests.
As a think tank, the Center for Strategic and International Studies did not file a lobbying report, but the goals of the effort were clear.
In this economy, everything is a loophole, everything is a swindle.
"Political obstacles to export," read the agenda of one closed-door "working group" meeting organized by Mr. Brannen that included Tom Rice, a lobbyist in General Atomics's Washington office, on the invitation lists, the emails show.
Boeing and Lockheed Martin, drone makers that were major C.S.I.S. contributors, were also invited to attend the sessions, the emails show. The meetings and research culminated with a report released in February 2014 that reflected the industry's priorities.
But the effort did not stop there.
Mr. Brannen initiated meetings with Defense Department officials and congressional staff to push for the recommendations, which also included setting up a new Pentagon office to give more focus to acquisition and deployment of drones.The center also stressed the need to ease export limits at a conference it hosted at its headquarters featuring top officials from the Navy, the Air Force and the Marine Corps.
Mr. Brannen, who has since left C.S.I.S., declined to comment. The think tank insisted that its efforts to influence administration policy were not lobbying.
What a heaping pile of bullshit.
One thing is clear: The result was a victory for General Atomics.
In February 2015, almost one year after the C.S.I.S. report was issued, the State Department announced a clarification of its rules, easing final approval that month for General Atomics's long-planned sale of unarmed Predator drones to the United Arab Emirates, the first such sale to a non-NATO nation. The think tank report was just one of many voices pushing for the change.
A State Department spokesman said that while the government officials involved in the review had received opinions from think tanks and industry officials, "at the end of the day, this is a considered U.S. government policy."
There you have it folks. Just another tale from the putrid and hopelessly corrupt U.S. economy.
Naturally, we shouldn't be the least bit surprised that one of the most destructive human beings in modern American history is a Distinguished Fellow in Residence at theBrookings Institution. Yes, you know who I'm talking about…

Thanks for playin' America.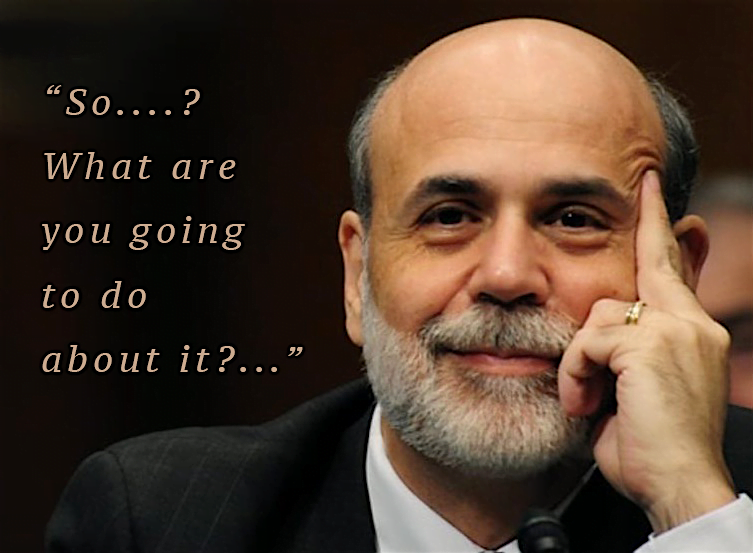 For related articles, see:
A First Look at a New Report on Crony Capitalism – Trillions in Corporate Welfare
The Department of Homeland Security is a Conduit for Crony Capitalism
More Corporate Cronyism and Shadiness Revealed in Newly Released Obamatrade Report
Meet the Overseas Contingency Operations Account – Washington D.C.'s Crony Capitalist War Slush Fund
In Liberty,
Michael Krieger
http://libertyblitzkrieg.com/2016/08/09/the-dirty-business-of-u-s-think-tanks/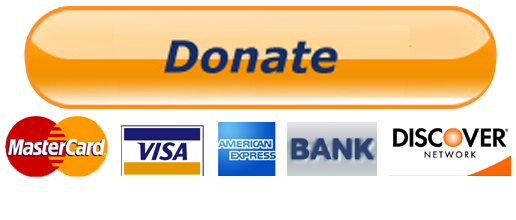 Your Tax Free Donations Are Appreciated and Help Fund our Volunteer Website and Orphanage
Disclaimer: We at Prepare for Change (PFC) bring you information that is not offered by the mainstream news, and therefore may seem controversial. The opinions, views, statements, and/or information we present are not necessarily promoted, endorsed, espoused, or agreed to by Prepare for Change, its leadership Council, members, those who work with PFC, or those who read its content. However, they are hopefully provocative. Please use discernment! Use logical thinking, your own intuition and your own connection with Source, Spirit and Natural Laws to help you determine what is true and what is not. By sharing information and seeding dialogue, it is our goal to raise consciousness and awareness of higher truths to free us from enslavement of the matrix in this material realm.