By Dr. Amy L. Beam:
Ferhat Encu is a Kurdish political prisoner and human rights activist from Roboski, Turkey. First the government killed his brother, then they killed their mules, then they killed their horses, then they put Ferhat Encu in prison. But the Turkish government will never succeed in killing 20 million Kurds or their determination for full human rights.
Five years ago, on December 28, 2011, Turkey flew two F-16s for 47 minutes and one-by-one killed 34 innocent Kurds with missile strikes. Most of them were teenagers doing cross-border trading. Nineteen men and boys from the Encu families were killed in the Roboski massacre, including Ferhat Encu's 17-year-old brother, Serhat. They were returning over the mountain ridge on their mules with gasoline. Each boy earns about $50 for his family on each overnight trip. This trade was conducted in front of the eyes of the Turkish soldiers and commanders.
No government officials ever showed up in Roboski to interview any of the bereaved families. The U.S. flew a drone and passed the coordinates to the Turkish Air Force. No apology has ever been offered to the 34 families who lost a loved one. The government said it was targeting a PKK leader, Bahoz Erdal, but U.S. drone video clearly shows there were no PKK among the civilians. Turkey called it an operational mistake.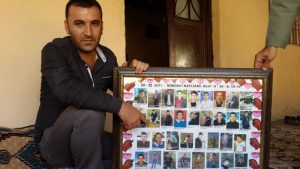 In 2012, Ferhat became the spokesperson for the victims' families, pressing the government in court for answers. This led to Encu's election to parliament from Şırnak on June 7, 2015. He took his seat in parliament as MP from the HDP party on November 1, 2015.
On February 25, 2014, once again, there was military action at the Turkey-Iraq border near Roboski. The Turkish government built a "security road" and erected a wire fence to block the cross-border trading. This drew local protests which resulted in military bombing, shooting and tear gassing of civilians.
Ferhat Encu was among 1000 local villagers who walked to the border to intervene as human shields between the Turkish army and HPG (People's Defense Units) to prevent bloodshed. Both sides retreated. If the border had been permanently closed, these villagers would have lost their main source of economic survival.
Yezidis owe a debt of gratitude to Ferhat Encu. After ISIS (Daesh) attacked the Yezidis in Shengal, Iraq, on August 3, 2014, Ferhat Encu organized the residents of Roboski to shelter and feed 20,000 Yazidis who fled from Iraq over the mountain border to Roboski, Turkey. He coordinated city buses from all the towns and cities in southeast Turkey and dispersed the Yezidis to a dozen refugee camps. This was achieved with volunteers and donations. The Turkish government, in spite of legal requirements, refused to give any humanitarian aid to these camps run by Kurds.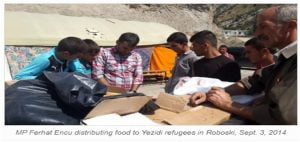 On April 28, 2016, MP Encu told parliament "  http:/www.dailymail.co.uk/news/article/-3564591/Huge-brawl-breaks-Turkish-Parliament-MP-s-controversial-comments-disscussions-EU-migration-legislation.html    I remember the civilians recently massacred by shelling in Silopi. I remember the 34 people, including children, who were brutally bombed by Turkish war planes in Roboski four years ago." A brawl broke out as AKP members of parliaments shouted insults at Encu for daring to speak the truth.
On November 4, 2016, MP Ferhat Encu was arrested and now remains in prison with hundreds, or possibly thousands, of other political prisoners in Turkey. Since November, the Turkish government has imprisoned 12 members of parliament from the HDP party after parliament removed political immunity for parliament members. Encu was accused of "alienating the public from military service, terrorist propaganda, incitement to animosity, entering military prohibited zones, attempted murder of a public official for their duty".
Ferhat Encu was sent to the Kandira F-type closed prison for women where he was kept alone.
Ferhat Encu is a great humanitarian with courage to stand up for truth and justice. The Turkish government should release him immediately. NATO should examine its relationship with Turkey as Turkey defiles the rule of law with wholesale arrests of politicians, Kurdish elected leaders, journalists, academics, and generals.
Dr. Amy L. Beam is Executive Director of "Amy, Azadi and Jiyan" (AAJ) humanitarian organization registered in Kurdistan. She is a researcher, writer, and human rights activist for Yezidis and Kurds in the Middle East. Follow her on her public Facebook at https://www.facebook.com/AmyLBeam . Contact: [email protected]
https://kurdistantribune.com/kurdish-peace-activist-ferhat-encu-in-prison-on-roboski-massacre-anniversary/
How long we need to stop this genocide?
Why is there no help on the road seven years after the EZIDI genocide as of August 3, 2014? My advice to Ezidis.
On the seventh anniversary of the ongoing genocide of the Isidists, many of my Azidi friends called me and shared their painful memories when ISIS killed or kidnapped their relatives in 2014, many tears are flowing today. I've thought a lot about what I would say will bring rest or any difference.
In the last seven years I have gone to the governments of thirteen countries to urge them to grant asylum and financial assistance to those displaced by the Isidists. (United States, United Kingdom, Canada, Australia, Germany, France, Italy, Switzerland, Turkey, Iraq, Republic of Georgia, Armenia and Barbados) listened politely, but did or did not help. Only Germany, Canada and Australia granted asylum to a few thousand Isidists.
Belgium recently acknowledged the genocide of the Isidists and promised to help with reconstruction projects in Sinjar. But Belgium did not offer asylum.
So my comments and advice today are directed at abandoned Isidists and not foreign governments.
Seven years later, it is time to accept the harsh reality. No one comes to save you The reason no one comes to help you is because the world is full of disasters, wars and famines. Each country and society has its own problems. I invite you to watch this video to understand the great problems of the world. Then you would better understand why no country helps the Isidists.
As they remember the attack on August 3, 2014, with pain in their hearts, I suffer with you. This is my painful advice to you. You have three options for your future. They are all horrible. They all seem impossible.
You can try to get asylum in a different country Most asylum programs have stopped Azid interpreters are still waiting years to go to the US Germany continues to deny asylum applications and family reunion. Australia's borders remain closed even for those who have already received asylum more than 1.5 years ago. I heard that people pay a lot of money to smuggle into Europe through the country of Belarus. In Mexico / United States At the border, 188 immigrants were allowed to enter the United States and release them last month.
2. You can continue living in your tents and caravans. There are 83 million displaced people in the world. Fewer than 200,000 Isidists live in displacement camps in Iraq. Foreign aid is dwindling You can go on living in your tent or caravan and wait for it to burn, rot or die, or you can find a way out and go back to your village. A goal that seems impossible No one comes to help you, so waiting year after year is not a good solution. I advise you to find some foreign friends or relatives to help you, because no government will help you.
Continue your education Pressuring the Iraqi government to obtain financial aid and compensation for their destroyed houses.3. You can go back to your village in Shinkal and try to find a way to start your life over. You can farm, raise sheep, or open a shop. Without money, it seems almost impossible. I urge the Isidists to help your neighbors with food, free work, encouragement and money. The Isidistas need you to help each other, because no one is coming to rescue you. I urge all Isidis living outside of Iraq to send money to the Isidis in Iraq every month to help them recover.I believe that with US $ 2500, the family can return to their village. You will be risky and life will be difficult, but you can be with your family, live on your land and rebuild your communities.
With deep love and sadness I remember all the Isidists on 08/03/2021. I hope these Isidists who are still missing will return. Please be nice to each other, smile, hug each other and give hope. Please stop waiting
https://www.bitchute.com/video/kUhhOvApyw9k/
Note from Author:
This situation already has since 2014, the date on which the dark ones had already started with the plan against humanity to reduce the world population and this is the reason why the governments of the world go crazy, because the plan It is not going to stop until we unite and open our eyes to those who are still asleep to get a little deeper into the channels that are reporting this kind of atrocity that is happening today to our brothers in various parts of the world and we can help even though be with little, but if many join, we will do a lot, because when we have this problem on our noses that is afflicting us closely, then it will be too late. As Dr. Amy says: Please stop waiting.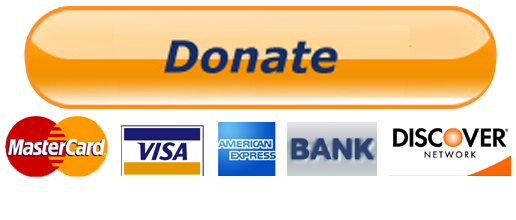 Your Tax Free Donations Are Appreciated and Help Fund our Volunteer Website and Orphanage
Disclaimer: We at Prepare for Change (PFC) bring you information that is not offered by the mainstream news, and therefore may seem controversial. The opinions, views, statements, and/or information we present are not necessarily promoted, endorsed, espoused, or agreed to by Prepare for Change, its leadership Council, members, those who work with PFC, or those who read its content. However, they are hopefully provocative. Please use discernment! Use logical thinking, your own intuition and your own connection with Source, Spirit and Natural Laws to help you determine what is true and what is not. By sharing information and seeding dialogue, it is our goal to raise consciousness and awareness of higher truths to free us from enslavement of the matrix in this material realm.