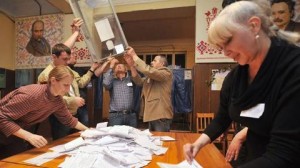 Almost 90 percent of voters in Ukraine's Donetsk Region said "yes" answering the referendum question whether they support the Act of state self-rule of the Donetsk People's Republic, Roman Lyagin, head of the republic's central electoral commission, said. The final results of the vote will be announced on May 12.
Only 10.19 percent of those who took part in the referendum voted against statehood of the Donetsk People's Republic, and 0.74 percent of voters deliberately spoiled their ballots. The ofiicial voter turnout in the Donetsk Region was 74.87 percent.
The referendum was held on Sunday in the eastern Ukrainian regions of Donetsk and Lugansk, where supporters of Ukraine's federalization proclaimed in April the establishment of the Donetsk and Lugansk People's Republics. The voting took place as authorities in Kiev were ramping up their military operation in the country's southeast. During the voting in the town of Krasnoarmeysk, armed men identified as members of the Ukrainian national guard opened fire on a crowd outside the town hall, killing one civilian.
Voter turnout in the Lugansk Region was 81%, RIA Novosti reports. The official results of voting there will be announced on May 12 at a rally, Vasiliy Nikitin, spokesman for the pro-federalization Army of the Southeast, said.
Related Links from The Voice of Russia:
New entity to be formed after referendum in Ukraine's southeast – Donetsk region people's governor

Donetsk referendum organizers plan to begin 'civilized divorce' with Kiev authorities