Nearing The End Of A Crazy Year – Will 2015 Finally Bring The EVENT?
All years are crazy, but given the energies, geopolitical maneuvering, and rampant disinformation from the MSM as well as many Alternative Media websites…it has been particularly tough on many of us.  In particular, the recent IS:IS Portal Activation Pt 2 was particularly brutal on many people – even those who are not awake have been reporting unusually difficult emotional and mental states.
The energies seem to be subsiding lately, but are still more intense than usual.
Beyond that, we are still working on addressing certain key issues such as short-term and long-term alternatives to Meetup Everywhere for PFC…updates will be provided either via Newsletter or Blog post.
Hot off the presses are much-anticipated updates from Cobra as well as Ben Fulford.
Cobra Blog IS:IS Portal Update PART II
Below is a key excerpt from each:
BF:  "The White Dragon Society does not involve itself in day to day politics but only acts when life and civilization face an existential threat. Now is such a time. Message to the military industrial complex: Wake up!"
C:   "This means that we are now entering the Breakthrough phase. We are no longer resisting the status quo, we are making push for the final victory. The Light forces have communicated that it is very important for everyone to start visualizing our lives after the Event as our visualization and intent speeds its manifestation. They have also communicated that it is time to start practicing unconditional forgiveness towards ourselves and others. There is no more time to dwell on the past, it is time to create the future and live in the Now."
Thank you to all who have supported PFC, Benjamin Fulford, and Cobra during 2014.  My hope is that the insanity of our world subsides in 2015 and peace once again takes root on our planet.

Nova Biscotti
Victory To The Light!
---

Merry Christmas

,

Happy Hanukkah

, &

Happy Holidays
Greetings Everyone,
I just watched a video from Big Island News called Railroad Ave. Drive Through…a realtime drive through the new road built in the Puna District of the Big Island o f Hawaii to allow access for the people of this area to reach Hilo if the lava that has been approaching the town actually crosses the highway 130. What is interesting is that this video contains the blessing of the road by the Hawaiian community, something you do not see everyday here on the mainland, USA. I feel happy that my friends in the Puna District will have access and not be cut off from the rest of the island. It is a little Christmas present to the town. I love it.
http://www.bigislandvideonews.com/2014/12/21/video-railroad-avenue-drive/
I also want to share about a company working to end water poverty, by creating a bottle you can add impure and dirty water to and shake it and it can be made drinkable. This can be sent to places that have no access to clean water and need to import water.
http://www.lifesaversystems.com/press-media/videos
And as this newsletter brings to light interesting events in the media, there was a blistering editorial in the New York Times this week calling for a reopening of an investigation, entitled:

"Prosecute Torturers and Their Bosses."
This editorial states: "Since the day President Obama took office, he has failed to bring to justice anyone responsible for the torture of terrorism suspects — an official government program conceived and carried out in the years after the attacks of Sept. 11, 2001. … C.I.A. officials admitted at the time that what they intended to do was illegal. …No amount of legal pretzel logic can justify the behavior detailed in the report. Indeed, it is impossible to read it and conclude that no one can be held accountable. At the very least, Mr. Obama needs to authorize a full and independent criminal investigation."
Click here to read the full article.
Let's hold the vision for the end of crimes against humanity, and perhaps this editorial can be a catalyst for justice.
YESHUA
        Emperor of Hearts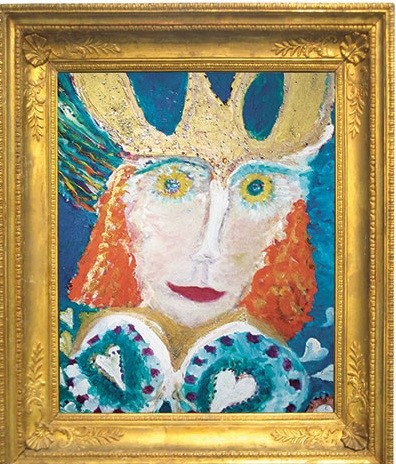 JESHUA, EMPEROR OF HEARTS
36X48 Mixed Media
Even as a child, Jeshua manifested the purest of vibrations, and shifted the energetic field of his companions and his surroundings. When he walked by your side, he had an endearing way of placing his arm around you, embracing you into his confidence and sharing his secrets, making you feel oh so very special.
Jeshua, father, brother, son, friend, beloved, master, teacher, all wrapped up together, bringing truth and understanding, a return to innocence and self- knowing, and a sense of knowing you are on the right path, and are not alone.
Feel into this sense of joy, peace, compassion; wholeness, royalty, play, truth and understanding. Jeshua's pure heart and innocence reminds us of who we are, and helps us recognize our divinity.
The golden crown is filled with jewels and crystals focusing the highest of vibrations coming through from the angelic realms. The four elements of earth are in the crown, the energy of oneness. His gaze fills you with infinite mercy and love, patiently reflecting back to you the love you share.
"I am pure love!"
To see more Earth Messengers and to find out about Evenings with the Earth Messsengers – Beings Sent by the Divine visit 
Facebook page:  Earth Messengers: Being Sent by the Divine
So sending peace and blessings and happy holidays to all.
And a link to my favorite Christmas song… Oh Holy Night. My friend Devorah is an amazing opera singer and she used to move me to tears when she sang this song. I don't have her version to share but here is a link to Josh Groban!
Media Groups Archive of Blessings and Peace: Click Here
As always, keep your eyes to the skies.
Judi and Smaly7, co-chairs, the Media Group
---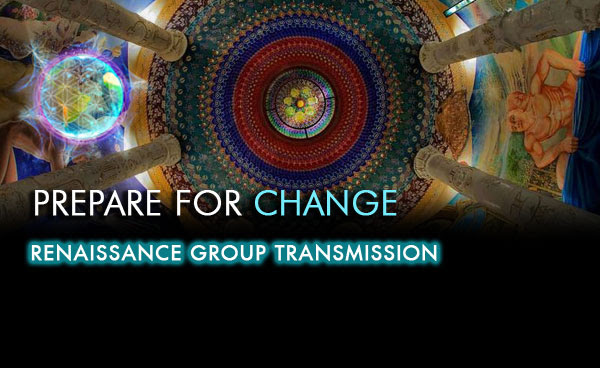 GREETINGS FROM DOV AND RAISSA OF THE RENAISSANCE GROUP 
FIRST OFF, WISHING ALL A HAPPY HOLIDAYS…WITH THIS LITTLE HOLIDAY SONG

Continuing with the Tarot Art series, the next card in our adventure is the Empress. She is sitting upon a set of rocks that make up a throne, and we see a flowing waterfall near her. Her dress also flows with colors of the rainbow, and she is creation, nurturing and responding to nature in evolution. While the Magician has given us the idea, and the High Priestess has given us the time and psychic space to nurture our dreams, the Empress gives us the actual physical space to plant the seed of our dreams, to feel good about it, to be creative and free and open and intimate with it. She holds the seed of growth, and the clouds hold the rain to give it life. The stars are her crown above and shine with blessings on the dream of happiness and prosperity, abundance and success. She has a heart as a staff, her sign of Venus, and reminds us that when we are on the path of our heart, all else falls away, so listen to the music of the heart, like a stream flowing in the garden of our soul.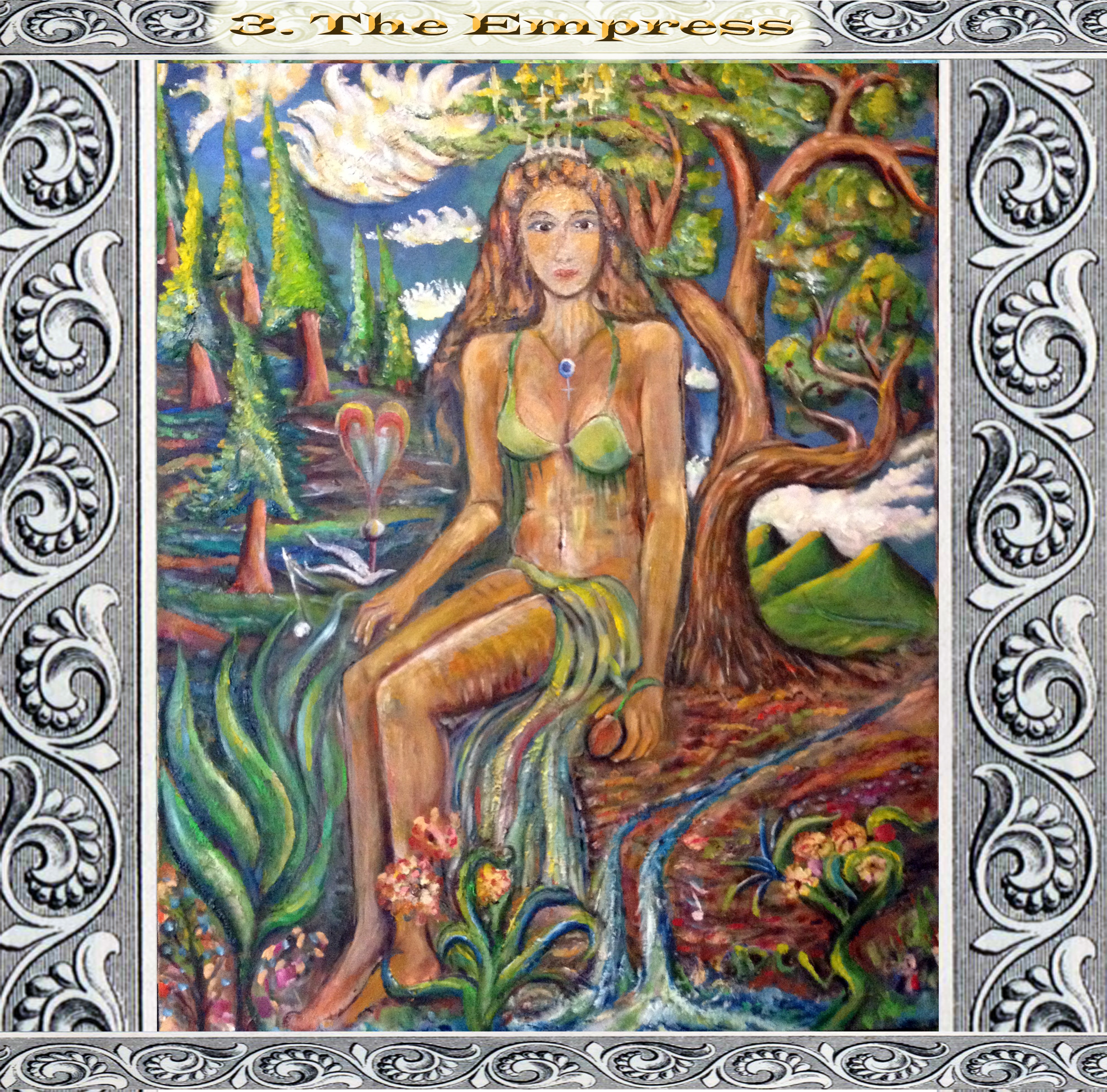 And for a heartfelt two hours of music, here is a link to a youtube video with the entire music of Sagewing.
And for a tribal experience, and a journey through the tribal cultures of the world…. here is a link to the entire Tribal Tree CD…
Blessings and happy Holidays
DOV
---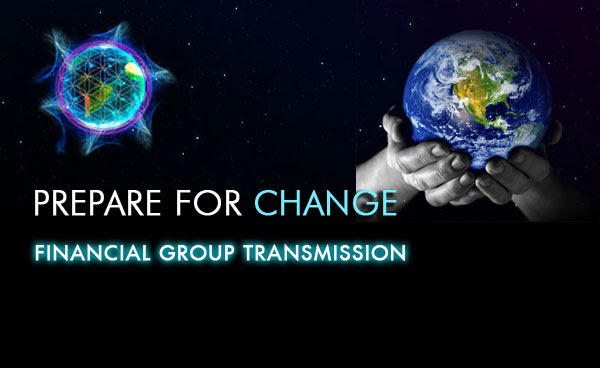 POWER

VS

FORCE
The following is a well-spoken explanation of this chart.  At the end of the article is a youtube video by David Hawkins also explaining his chart.  When I read this book over 15 years ago I was highly impacted by the information – and through a lot of self-reflection I started to realize how I was raised and how I had been living and reflecting those levels of consciousness – and then made some necessary changes.  Use this chart for your own self-reflecting and make necessary changes and use this chart to see where other leaders/people/societies/countries are "coming" from.
At PFC we are looking forward to having the scalar mind control taken down, so we can more easily increase our consciousness and live in new societies of higher consciousness.
DaNell Glade
Email: [email protected]
---

By Carla M. Thompson, RN  BscN;
January 19, 2012, Copyright 2012
www.stankovuniversallaw.com
(0) Introduction
On our journey throughout life we find ourselves met by all kinds of people and all kinds of situations and experiences.  Our ability to learn and grow from these experiences is based  largely on our ability to discern truth from falsehood.  It has been demonstrated over the eons that the human mind is incapable of discerning truth as the stunning evidence of pain and suffering mounts, not only at the individual level but also at the level of entire civilizations.  Dr. David R. Hawkins, MD, PhD has created a tool that he calls the Map of Consciousness.  This map was developed to overcome the inherent limitation of the human mind, whereby falsity has been misidentified as truth.  His ultimate goal "is a connecting of the dots so that the hidden picture emerges.  The hope is that this work might undo the very sources of pain, suffering, and failure, and assist the evolution of human consciousness in each of us to rise to the level of joy that should be the essence of each and every human being's experience".
(1) Background
The Map of Consciousness was created by Dr. David Hawkins, a psychiatrist, who experienced several life-altering events throughout his life.  Following each event, he noticed a change in his state of consciousness from an ego-based/ mind focus to a completely overwhelming state of overpowering bliss where he felt a constant, steady connection with the "Presence".
With this dramatic change in his level of consciousness,  he decided that he must pursue the reason why it had changed and how he could describe the changes to help mankind in the pursuit of enlightenment.  His driving desire was to "address the causes of the endless stream of spiritual distress and human suffering".
(2) History
The Map of Consciousness is a numerical scale whereby one can measure positive from negative, power from force and truth from falsehood. Dr. Hawkins believes that every word, every thought, and every intention creates what is called a morphogenetic field, or attractor field, and that these energy fields can be measured by a very simple process. This process is a well-established science known as  Kinesiology. Kinesiology is defined as the study of muscles and their movements, especially as applied to physical conditioning. The study of kinesiology first gained scientific attention from the work of Dr. George Goodheart, who pioneered the specialty he called Applied Kinesiology, after finding that benign physical stimuli such as beneficial vitamin and mineral supplements would increase the strength of certain indicator muscles, whereas hostile stimuli would cause those muscles to suddenly weaken.
In the late 1970s, Dr. John Diamond refined this specialty into Behavioral Kinesiology where indicator muscles would strengthen or weaken in the presence of positive or negative physical, emotional and intellectual stimuli.
Dr. Hawkins' research took Dr. Diamond's technique several steps further, by discovering that this kinesiologic response conveys man's capacity to differentiate not only positive from negative stimuli, but also anabolic  from catabolic, and very dramatically, truth from falsity. The Map of Consciousness reflects millions of calibrations of statements, thoughts, photos, art, music,  influential world leaders in every discipline and in almost every area  of human endeavour.  The research carried on for over 20 years to come up effectively with an anatomy of consciousness that reflects the entire human condition. . . . (article continues in link above)
David Hawkins explains Levels of consciousness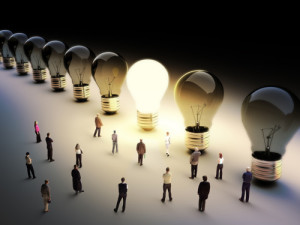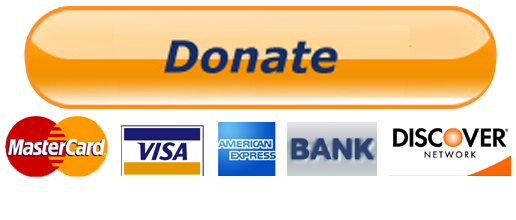 Your Tax Free Donations Are Appreciated and Help Fund our Volunteer Website and Orphanage
Disclaimer: We at Prepare for Change (PFC) bring you information that is not offered by the mainstream news, and therefore may seem controversial. The opinions, views, statements, and/or information we present are not necessarily promoted, endorsed, espoused, or agreed to by Prepare for Change, its leadership Council, members, those who work with PFC, or those who read its content. However, they are hopefully provocative. Please use discernment! Use logical thinking, your own intuition and your own connection with Source, Spirit and Natural Laws to help you determine what is true and what is not. By sharing information and seeding dialogue, it is our goal to raise consciousness and awareness of higher truths to free us from enslavement of the matrix in this material realm.