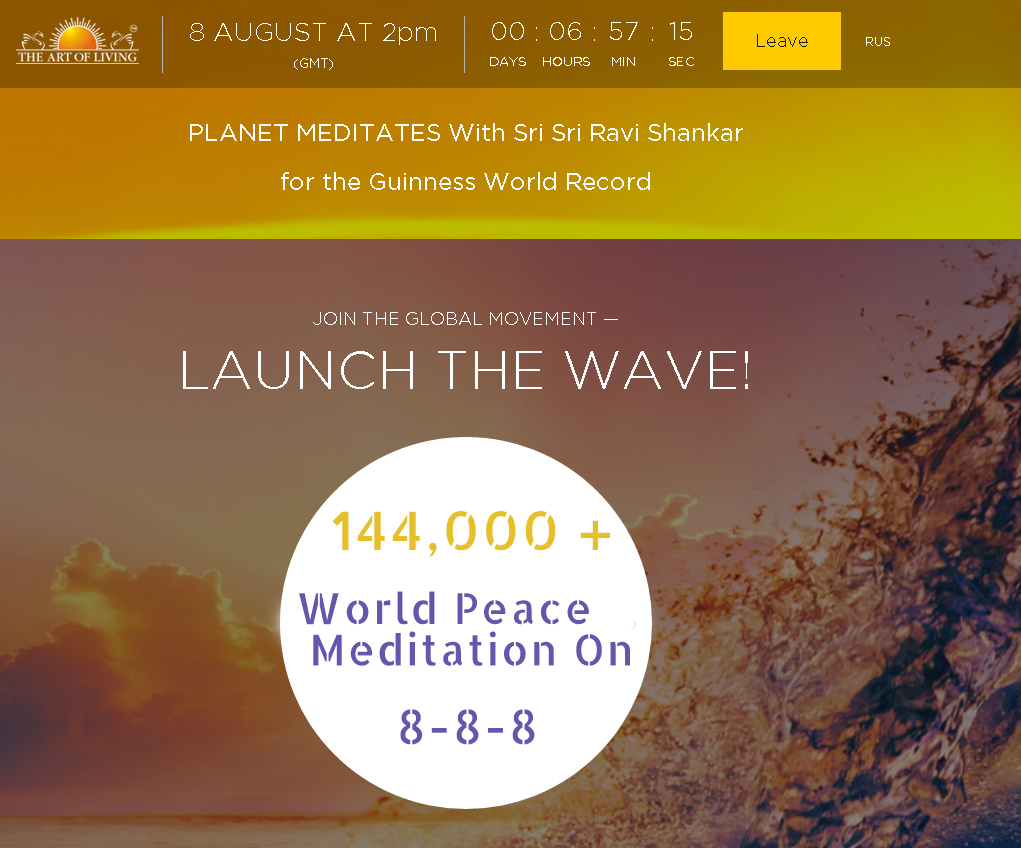 I know this post comes in the form of a late notice for some of you but it is still an effort  worth trying, please join us
tomorrow
August 8th at 7 am PST
for a world peace meditation 8-8-8 with Sri Sri Ravi Shankar, lets reach the critical mass of 144,000 people
tomorrow
and co-create together a state of permanent peace on earth at last :
Your Loving Brother, Eduardo.
Instructions For Sharing Your Wave:
1. SHARE A LINK WITH YOUR FRIENDS
(WIN A TRIP TO INDIA)
Send this link to 5 friends by email, text, sms, facebook, whatsapp, viber, skype, twitter, linkedin, etc. ā
and win a trip to India! Right on! When 5 people register on this link, you will get a bonus – the chance to win a trip to India, the motherland of meditation, airfair and accommodation are included! The winner will annonuced the day after the online meditation. There is special prize for thouse who lives in India
2. SHARE ON SOCIAL NETWORKS.
And – yes! – you also get your personal link 🙂
http://www.facebook.com/
http://vk.com/
http://twitter.com/
Facebook Twitter
3. INVITE FRIENDS TO THE EVENT
https://www.facebook.com/events/
IMPORTANT!!!
The Guinness World Records gets recorded only through the online connection at the time of meditation. It is important to all meditators, even in the same room, connect individualy – for example, via the smartphone.
your wave: http://planetmeditates.org/