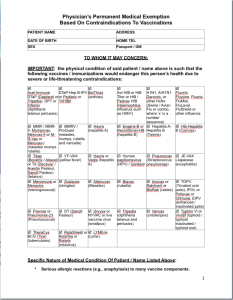 During an interview with Dr. Simon Atkins, the Leader of the PFC Healing Group learned about an important form that can be used to share your concerns about vaccinations with your doctor. Titled Physician's Permanent Medical Exemption Based On Contraindications To Vaccinations, it lists the thirty-three vaccines/immunizations that would endanger a person's health due to severe or life-threatening contraindications, and then lists the present and potential severe or life-threatening contraindications to them.
It then lists the specific vaccine components, such as the excipients found/manufactured in the vaccines, that pose serious threats of allergic hyper-immune responses sand/or reactions of the named individual on the form.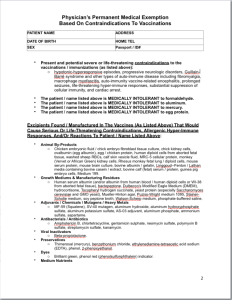 The Medical Exemption letter BLANK.pdf is on the drop down menu under Healing on this web site so it will be easy to find in the future, and is also available as a PDF from this post at the link below.
Medical Exemption Letter BLANK.pdf (1054 downloads)