Finland and Iceland Showing the Way Forward Regarding Citizens Economic Rights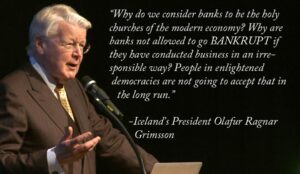 Just before Cobra's last update I saw this article about Iceland and the banks and decided to repost it here. Then Cobra's update included a link about how Finland is discussing giving every citizen a basic wage – no strings attached. I have to add here that this subject has also been raised to discussion by some Swedish political parties in the last 12-18 mths.
Iceland Remedy
First they jailed the bankers and now they plan that every Icelander is to get paid in a bank sale !
First They Jailed the Bankers, Now Every Icelander to Get Paid in Bank Sale
Therese Zumi
www.veritasgalacticsweden.net
16/12/2015 at 1018 AM CET