Elaine Buxton is a Prepare for Change Volunteer and Nature Restoration Group member. As a valued member of our group and Editor of our Nature website, Elaine uses her skills and passions to write exemplary articles that not only educate but inspire the reader to want to learn more about the truth of disclosure.
In a very timely fashion, Elaine outlines the factors past and present that have created the current drought situation that we are witnessing on the west coast of the United States.
Written by Elaine Buxton – June 27, 2021
from Naturerestoration.info
Introduction
Reservoirs are our main source of water for cities, food production, wildlife refuges and fisheries in a climate region characterized by low rainfall in summer months and periodic droughts. Without water storage for distribution during dry months, we would not be able to sustain current populations of humans or animals, declining back to the age of hunter gatherers before agriculture was developed 6000 years ago.
In the first half of the 1900's, the US Bureau of Reclamation (USBR), which is part of the Department of Interior, constructed 180 projects in 17 western states for storage and delivery of water including dams, hydroelectric plants, reservoirs, pumping stations and canals. The USBR systems supply water to 31 million people and over 10 million acres of farmland. Our culture and way of life has become dependent on these systems in both rural and urban regions.
The California drought of 2012-2016 resulted in major reductions of water allocations with economic and environmental impacts throughout the state. Severe drought is currently impacting all western states and creating water shortages with competing interests among many stakeholders. It is considered the worst we have experienced in 1200 years, further worsened by rising global temperatures. California and Oregon have declared statewide emergencies in the past two months related to drought, heat, water shortage and significant risk of catastrophic wildfires even worse than 2020.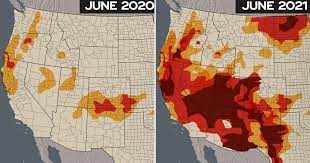 US Western State Drought Comparison
Federal Control Structure of Water Resources and Stakeholders
After years of drought, the 2018 and 2019 rainy seasons refilled the reservoirs from 103-140% of average capacity (Katy Grimes, 5/24/21). For example, Lake Shasta and Lake Oroville were each at 118% of the historical average on June 18, 2019. The winter of 2019 was abundantly wet. According to experts, that was enough water to meet the water needs of all stakeholders for 7 years if managed properly (Katy Grimes, 4/7/21). Katy Grimes is an investigative journalist who writes that more than 50% of California's water flows out to the ocean for environmental purposes, 40% is used by agriculture (not the 70-80% as claimed) and 10% is used for urban purposes. She reports that water shortages are the fault of government officials, not climate change.  (Katy Grimes, 6/27/21).
Investigation reveals that water was released from all the Oregon and California reservoirs beginning in late 2020 to spring 2021 into river flows to the ocean without any human use and little to no wildlife benefit. The specific reasons for this is unclear and probably multi-factorial.
Critical thinking introduces the issue of water management regarding how decisions are made and by what federal and state agencies. The system of water resources control is complex at all levels. The federal level involves the USBR and DOI, US Congress for legislation and funding, EPA and Clean Water Acts, Native American Tribes with water rights prior to the construction of dams, the Department of Agriculture, the Department of Fish and Wildlife, and interstate hydroelectric power corporations as key players.
Federal agencies are required by law to coordinate and abide by state laws. Each state has differing water management systems as well as water storage and delivery projects. Many of the water projects cross state lines, supplying vast regions with water resources. Multiple interest groups also have a seat at the decision tables.
The water shortages are pitting agricultural interests against tribal interests. Tribes have conflicting interests too. For example, Klamath tribes have senior water rights and depend on salmon, whereas the Yurok depend on sucker fish. Shortages pit single species survival for lake C'waam and Koptu sucker fish against downriver salmon, wildlife refuges, fisheries, and mammals that drink from the canals and depend on grazing. Urban regions generally only use 10% of the available water, but will be placed under severe water restrictions per person anyway. At this point, there is not enough water to save all the species, although this time humans may be on the endangered list as well.
Farmers and ranchers commonly frame USBR's obligations under the Endangered Species Act as a form of single species management that prioritizes conservation efforts to the detriment of others.
(Jessica Fu, 4/27/21)
Many alert people believe that the current water crisis is a catastrophe created by the federal government. On the other hand, most environmentalists point out that it is due to climate change, as repeated frequently by the California governor. The Biden administration plans to create a task force, led by Secretaries of the Interior and Agriculture to "explore opportunities to improve our nation's resilience to droughts." (Jessica Fu, 4/27/21) Until then, the crisis worsens and raises concerns about water scarcity. According to the US Geological Survey, the Klamath Drainage District continues to divert water from the river at a rate of 200 cubic feet per second. (Jessica Fu, 4/27/21) This appears to be a coordinated plan for maintaining river flows in most regions until the reservoirs levels are so low that releases are no longer possible.
The secretaries of the DOA and DOI report to the U.S. President. The current Secretary of the DOI is Deb Haaland, the first Native American appointee with strong tribal ties. The current Secretary of the DOA is Tom Vilsack, who also held that position for 8 years under the Obama Administration. On his first day in office on January 20th, President Biden signed Executive Order 13990, shifting the authorities and power structures of multiple departments and agencies in order to prioritize protection of the environment. Signed by Secretary Halaand, it specifically withdrew memorandums and analysis of water rights regarding the Klamath Basin Project during the Trump Administration. This action sidelined state authority and is being legally challenged with litigation.
The USBR is a federal agency under the DOI and oversees water resources management as it applies to the storage, diversion and delivery of water, irrigation and hydroelectric power. It has transformed over the years with project purposes going beyond irrigation only. It develops partnerships with customers, states and Native American Tribes to address competing needs for limited water resources. USBR's projects are legally required to obtain state water rights and to operate according to state laws.
USBR's top commissioner position is currently vacant under the Biden Administration. USBR publishes an Operations Plan each year, in cooperation for day to day operations with PacificCorps power company. Drought plans for water shortages determine allocations and diversions in accordance with the terms of established long term contracts with water districts and users. There are four categories of contracts, creating a system of priorities within the project domains.
Oregon and California Water Resources Control Structure
State regulatory agencies are structured differently in Oregon and California. In Oregon, the Water Resources Department (OWRD) ultimately holds all major state authority regarding water issues. It is responsible for the management of all surface and ground water, which belongs to the public by statute. With some exceptions, most users, including municipalities, farms, and businesses, must obtain a permit to use water from any source, whether underground, or from lakes and streams. Landowners with water flowing through their property cannot automatically use that water without authorization. OWRD also has a legal responsibility to work with nine federally recognized tribes to plan and implement strategies for water rights to benefit wildlife and fish.
Key state agencies in California include the Department of Water Resources (DWR) and the State Water Resources Control Board (SWB). California also has a state Water Resources Commission within the DWR, which provides public forums to discuss water issues, monitor state water projects, and distribute public funds. (Chris Micheli) The California State Water Resources Board is one of six branches of the California EPA and is sub-divided into nine Regional Water Boards.
The California DWR and the SWB are separate entities. The DWR built and operates the State Water Project, delivering water to two thirds of the California population. The mission of the SWB is to ensure water quality and water allocations to achieve optimum balance of beneficial uses. Historically, the water control boards issue water rights, adjudicates disputes, develop water protection plans, establish water quality standards, guide the regional boards, repair ailing systems, build new structures, and tackle cleanup of underground water sources contaminated by technology and industry. Joaquin Esquivel was appointed the new chair of the SWB by Governor Newsom in February 2019, replacing Felicia Marcus, who supported increasing flows from the San Joaquin River into the Delta estuary to support fish species and farmland.
California assumed responsibility for enforcing the federal Clean Water Act of 1972 and the US Environmental Protection Act (USEPA) in setting surface water quality standards, mandating sewage treatment, and regulating wastewater discharges from users.
Example #1: CVP Water Allocation 2012-2021
The Central Valley Project (CVP) in California is a federal water project owned and operatd by USBR and one of the world's largest water supply projects. It is jointly operated with the Ca. State Water Project (SWP), providing much of its water to municipal users in Southern California. California's system of water rights has profound effect on who get how much water and when. There is current debate related to how CVP deals with changes to the environmental hydrologic system not fully mitigated when the project was constructed. Below is a chart of annual allocations by category of users.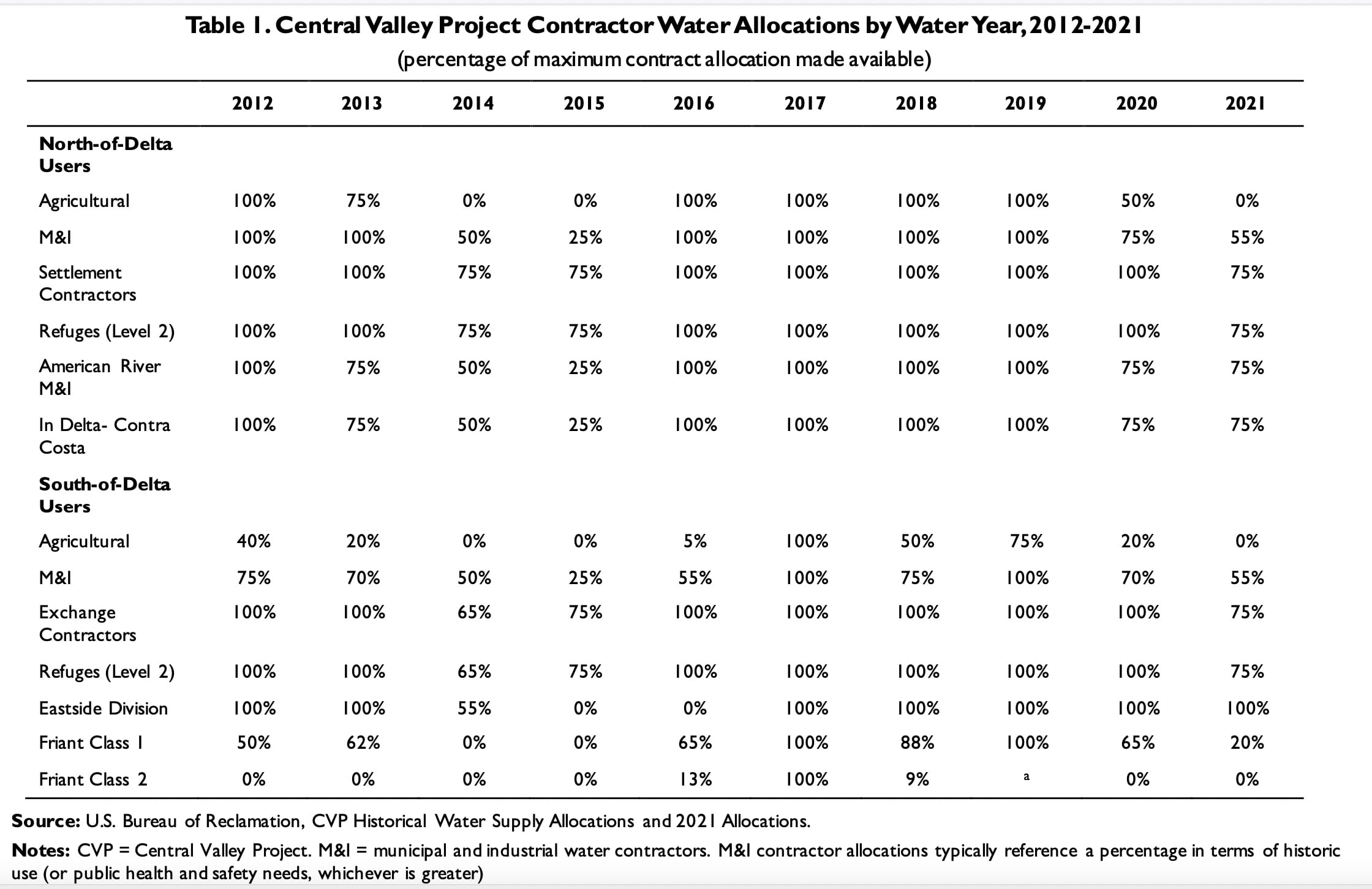 Example # 2 Lake Mead
Lake Mead is the largest reservoir in the US, supplying water to 25 million people. The USBR operates Hoover Dam, which generates hydroelectric power from the Colorado River. It will call a water shortage if Lake Mead's water level falls below 1,075 feet, expected to be announced this August. Lake Mead was at 36% capacity as of 6/9/21, at its record breaking low water level of 1,071 feet.
Seven states rely on the Colorado River for water and power. A negotiated joint Drought Contingency Plan, signed by the states in 2019, designates how water allotment reductions shall occur. Conservation measures are already taking place and the dam's hydraulic turbines were upgraded for more efficiency in recent years. The water shortage is not yet effecting power availability and recreation from Lake Mead. (Las Vegas Sun News) Lake Mead is only 175 feet above the "dead pool" level, the point at which water cannot pass through Hoover Dam (CNN). Funding for a landmark water deal was just announced that will provide 150,000 acre-feet ( 49 billion gallons) to shore up Lake Mead water level through the Colorado River Indian Tribes conservation project (AzBig Media).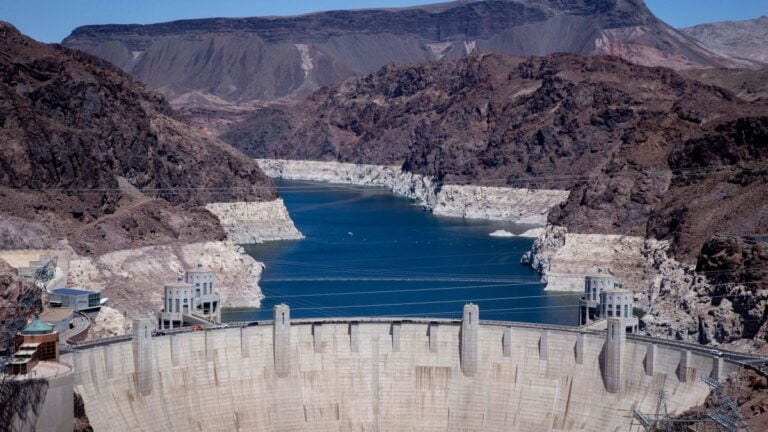 Hoover Dam and Lake Mead Water Level
What Can Be Done Now?
We are facing a catastrophic situation in the near future, in which all water needs cannot be satisfied, Tragically, the majority of Americans automatically and traditionally assume that the US government is making decisions in their best interests. Many of us go about our individual lives without awareness of the full reality of the world around us, of others who are suffering immediate consequences, or who is making critical infrastructure decisions. Most of what occurs is influenced by political perspectives and agendas.
There are two major paths for all of us to chose between:
 Passively accept the decisions of current controllers, regardless of life and death consequences and homeostasis on the planet                                                              Or
Stand up and take action for wiser management of remaining water resources on an emergency basis. In other words, pay attention to the inner workings of government and policies. Get involved and do enough research for critical thinking rather than blindly believing whatever is announced on mainstream TV news. Don't take water or other essential resources for granted.
References
Grimes, Katy. Facing Dry Year, CA State Water Board is Draining California's Folsom Lake Reservoir. California Globe. Www.californiaglobe.com/fr/facing-dry-year-ca-state-water-board-is-draining-californias-folsom-lake-reservoir.
Grimes, Katy. California Releasing Water from Reservoirs, Claiming Drought Conditions. California Globe. April 7, 2021. www.californiaglobe.com/fr/california-releasing-water-from-reservoirs
Grimes, Katy. Water and Drought Deceit: More dubious Policies California Lawmakers Continue to Perpetrate. California Globe. Www.californiaglobe.com/section-2/water-and-drought-deceipt.
Fu, Jessica. Amid severe drought in Oregon farming region, competing needs for water spark tense debate over what comes first – farmers, endangered fish, or tribal food sovereignty. The Counter.
April 27,2021. Https://the counter.org.oregon-farms-water-klamath-river-drought-salmon/
Fu, Jessica. Tensions rise in the Klamath Basin as feds further reduce water allotments to farmers.
The Counter. May 21, 2021. https://the counter.org/klamath-basin-feds-water-allotments-drought-releases-usbr-farmers-fisheries.
Micheli, Chris. California's Four Water Entities: What's the Difference? California Globe. Www.californiaglobe.com/section-2/california-four-water-entities-whats-difference/
Stern, Charles V and Pervaze A Sheikh. CRS Report: Central Valley Project: Issues and Legislation Updated 6 May 2021. www.waterwired.org/2021/05/crs-report central-valley-project-issues-and- legislation-updated-6-may-2021.
Vandervort, Wade. Here's what you need to know about Lake Mead's falling water levels. Las Vegas Sun. June 27,2021. www. Lasvegassun.com/news/2021/june/27.
Ramirez, Rachel et al. The shocking numbers behind the Lake Mead drought crisis. CNN June 17,2021
AzBig Media, Business News. Landmark water deal secures 49 billion gallons of water for Lake Mead. June 27, 2021. www.azbigmedia.com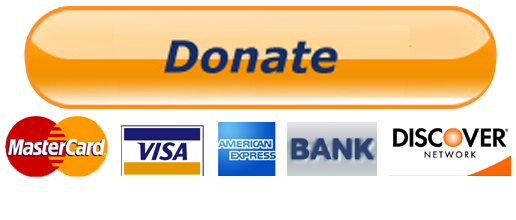 Your Tax Free Donations Are Appreciated and Help Fund our Volunteer Website and Orphanage
Disclaimer: We at Prepare for Change (PFC) bring you information that is not offered by the mainstream news, and therefore may seem controversial. The opinions, views, statements, and/or information we present are not necessarily promoted, endorsed, espoused, or agreed to by Prepare for Change, its leadership Council, members, those who work with PFC, or those who read its content. However, they are hopefully provocative. Please use discernment! Use logical thinking, your own intuition and your own connection with Source, Spirit and Natural Laws to help you determine what is true and what is not. By sharing information and seeding dialogue, it is our goal to raise consciousness and awareness of higher truths to free us from enslavement of the matrix in this material realm.