By Elaine Buxton
As we face a water crisis and massive forest wildfires every summer in the southwestern United States, it is time to take hard, new look at how the functioning of ecosystems affect all of our natural resources. Much of America's soils are nutrient and moisture depleted, water demand is exceeding developed supply, forest trees have died and burned, and river watersheds have deteriorated. New solutions are urgently needed. Investing in integrated natural and engineered watershed and forestland strategies are essential for our future health.
Natural systems such as forests, wetlands and grassy floodplains play a major role in water availability and climate. Water originating in forests is generally cleaner compared to water from other sources. At least 60 percent of California's developed water supply comes from forests in the Sierra Nevada Watershed, and over 50 percent in the US. Forested landscapes have higher groundwater recharge, lower stormwater runoff, and lower levels of nutrients and sediment deposited in streams compared to other areas. Water quality and water flow are strongly linked to the type of land cover in a watershed. The ability of forests to reduce peak storm runoff, maintain snowpack, filter out sediment and pollutants, and capture carbon is our first line of defense against climate change consequences.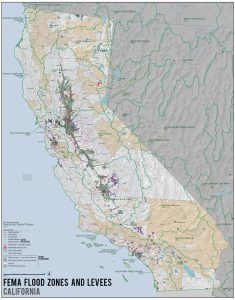 Unfortunately, many of the forests in the US are in poor health, largely due to neglect and mismanagement. Large portions of California's forests consist of smaller, tightly spaced trees that are vulnerable to drought, disease, pests and high-severity wildfire. Landscape diversity in size, age, species and density of trees is fundamental to wildfire prevention and habitat for a variety of wildlife species. A substantial increase in the pace and scale of restoration needs to be taken by federal and state agencies, utility corporations and corporate timber landowners. Conserving and restoring forests is a key component of water and climate strategies.
The potential benefits for humans and communities of healthy, well managed forests are profound. To begin with, forests store carbon securely and reduce greenhouse gas emissions for better air quality and climate impact. This is referred to as "carbon sink." Less intense, smaller and fewer severe wildfires in healthy forests emit less smoke particles and carbon that degrades air quality. There is increased water supply in healthy forests from streamflow and snowpack accumulation and retention. Forests provide flood control, water temperature regulation and water purification. Rural communities have reduced wildfire threat, preserved landscapes they depend on, increased economic opportunities in forest management, and scenic recreational opportunities. Forests are natural working landscapes; investing in natural infrastructures reduces costs of quality water and clean air in the long term.
Forest management based on mosaic structures and thinning could provide opportunities to rebuild rural, local communities around forest health monitoring, mill operations, restoration, and other related businesses. Resilient forests support outdoor recreation and tourism as well. Wildfires caused by neglect and mismanagement pose significant threats to homes and businesses, in addition to the broader consequences on water supply and air quality for everyone.
The water-related functions of healthy forests
are well established and include: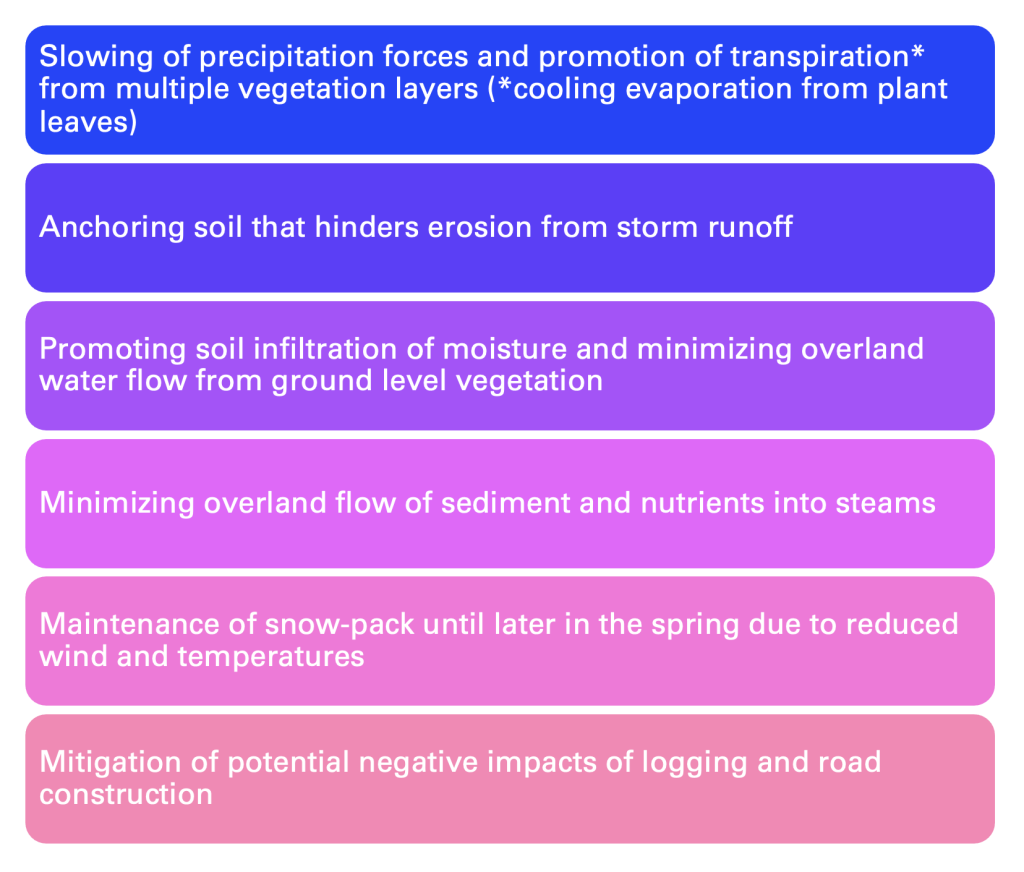 Historical Contributors to Increased Forest Fires
Prior to 1860, indigenous tribes conducted frequent, small surface burns as part of their long-standing cultural management of forests.  This reduced the accumulation of short vegetative fuel that contributes to hot crown fires, which spread rapidly across treetops.  Regular burning also reduced competition for water, allowing larger trees to maintain health at times of drought or pest outbreaks.  However, by the early 20th century, local, state and federal governments made suppression of all forest fires a primary goal.  Also, industrial sized logging during this period removed all large-diameter trees and were replaced with single-sized younger trees.  Over time, the new forests became denser and more homogeneous.  That resulted in more competition for water, tree deaths, and intense fires.  Widespread tree death and hotter fires inhibit tree regrowth.  Climate change and drought adds further stress to tree health and resilience.
Wildfire Prevention
Large, devastating wildfires are either driven by an over-accumulation of fuels or high winds.  Reducing the abundance of understory fuels such as brush, shrubs, and small trees, either through mechanical thinning and chipping or small, prescribed burning, will reduce the intensity and spread of wildfires that occur during dry summer months.  Fuel removal tends to be less effective for coastal fires driven by off shore winds or those caused by humans.  Sparks from high voltage transmission lines on land owned by privately owned utility corporations, including California's PG&E and PacificCorp, have ignited several massive wildfires in recent years in California.  PacificCorp is currently under litigation with accusations for not thinning vegetation, negligent maintenance of equipment and deliberately prioritizing profits over safety for the McKinney fire near Yreka this summer.  After decades of gross negligence and financial losses from litigation, the utilities have promised to massively expand tree trimming, bury power lines, and more quickly shut off power to consumers on hot and windy days.  According to the book California Burning, state regulators' deregulation of electric utilities has escalated the forest mismanagement by utilities.
Healthy forests in a mosaic structure of trees are most resilient to wildfires. A mosaic structure is a patchwork of trees with variation in density, size, and species within each acre.   How forests are logged and replanted for industrial timber production has an enormous impact on forest regrowth.  California rules allow 20 to 30 acres of clear cutting and require an adjacent area of the same size to be uncut.  Unfortunately, that approach removes all the large mature trees, instead of selected cutting that preserves a mosaic structure.  Later, when trees all of the same age and species are re-planted, they will be far more susceptible to wildfires without a mosaic structure.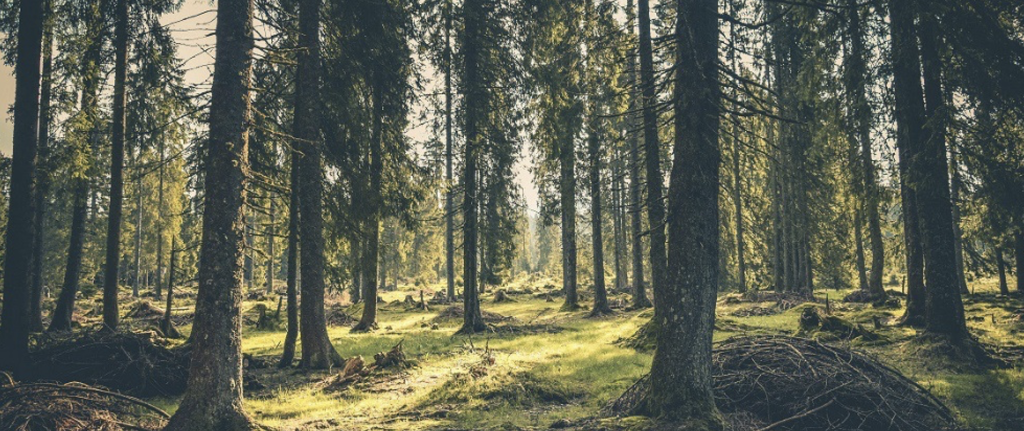 Forestry experts are increasingly worried that California is reaching a tipping point in which the wildfires emit more climate-warming carbon dioxide than they absorb.    The California Air Resources Board is urging state and federal authorities to drastically increase the thinning and treatment of forests with a goal of carbon neutrality by 2045.  In 2020 alone, California wildfires released more carbon dioxide than all industrial facilities in the state.   Approximately 163 million trees have died since 2010.  Six fires between 2015 and 2021 killed more than 85 percent large sequoias in the Sierra Nevada according to the National Park Service.  Over 4.2 million acres of forest burned in 2020 alone.    It will not be possible to achieve carbon-based goals against climate change without radical, fast paced measures taken in the next couple of years.
Management Challenges
Although promising restorative methods have been identified by scientists and forest managers, financial, policy, governance, and conflicting interests have impeded implementation across large landscapes.   There are a number of barriers that need to be overcome.   The inherent variability of climate and geology within and across forest watersheds requires the use of diverse management models.  The dominant approach in the past for natural infrastructure investments was to maximize cost-effectiveness and support economic logging benefits for land owners.  Forest and water management that improves ecosystems is indeed costly.  Investment must be large-scale and sustained with political support in long-term agreements.
Wildfire has already caused widespread damage that will take decades for healthy restoration.  Many local, regional, and federal decision makers and stakeholders, both public and private, must work together for any successful forest recovery projects.  Priorities, special interests, preferences, perceptions and long-term economics all must be taken into account.  Watershed function can either be enhanced or degraded by timber harvesting and building of forest roads.  Partnerships for planning and implementation must be created.  Partnerships with federal agencies would include the USDA Forest Service, US Bureau of Land Management, and National Park Service.  Collaboration with state agencies would include CA Natural Resources Agency, Cal Fire, Sierra Nevada Conservancy, California EPA, Dept. of Water Resources, Dept of Fish & Wildlife, and CA Conservation Corps.  Landowner participation is essential, whether private, corporate, utility or federal.  Tribes, too, must be involved.
Priority Nature-Based Solutions:   Climate Smart Strategy
State officials are calling for a tenfold increase in forest management strategies, including prescribed burning, to remove excessive fuels from at least a million acres by 2025.    The California Natural Resources Agency developed and published a draft Natural and Working Lands Climate Smart Strategy in Oct, 2021 that addresses needed changes in eight types of landscapes, including forests.
Because the ownership of forestlands in California is complex, diverse and large in scale, partnerships are essential for taking action.  A number of agreements are already in progress and are described in the draft plan.  For example, the State of California has a Shared Stewardship Agreement since 2020 with the US Forest Service, which owns 57 percent of California's forests.   State agencies have various training programs to prepare tree trimmers and firefighters. The state also funds research to advance nature-based climate solutions.  The CA Public Utilities Commission requires utilities to file climate vulnerability assessments.  The State Board of Forestry regulates commercial timber production. Sierra Nevada Conservancy works closely with the USDA Forest Service on restoration projects.
California Natural Resources Agency developed the following list of forest restoration strategies in its climate improvement draft in October 2021: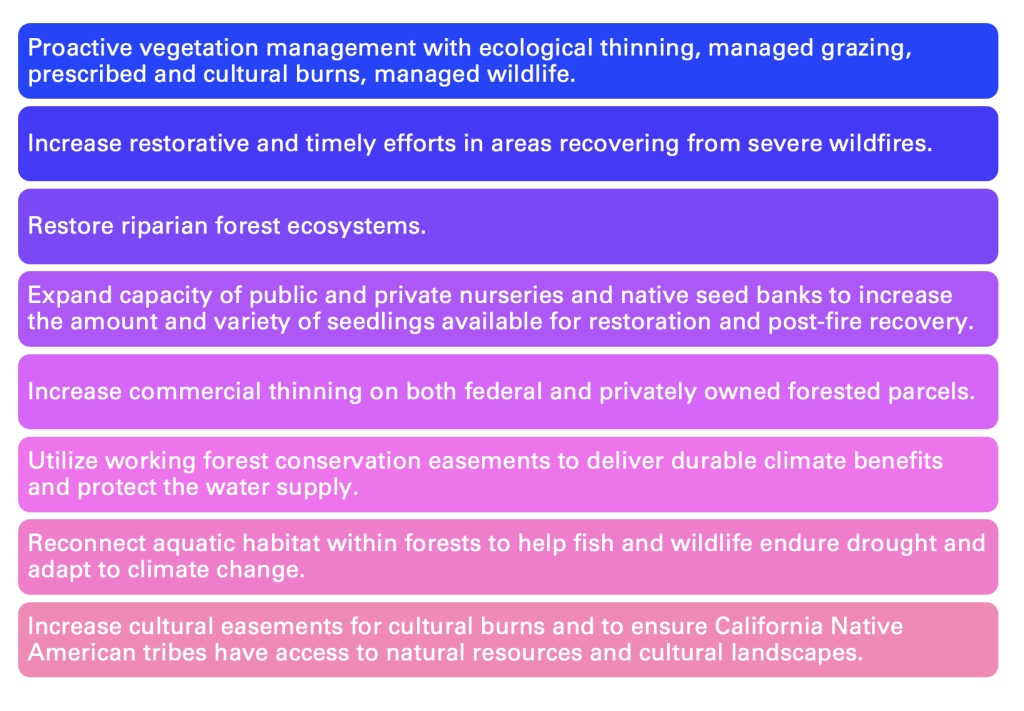 Summary
California has passed a critical tipping point in the health and functioning of its forestland from wildfires, drought, insects, conversion to other uses, timber production and mismanagement.  The consequences of this affect water, air and climate in ways that will takes many decades to recover from.  Approximately half of California's 33 million acres of forests need some form of urgent restoration to save the remining trees and watersheds.  Forested landscapes provide a broad range of public and private benefits, including carbon sequestration, a quality water supply, public health and safety, and ecosystem for fish and wildlife.  Society is ultimately dependent on a healthy environment providing natural resources in balanced ecosystems.  Promoting anything else is not sustainable.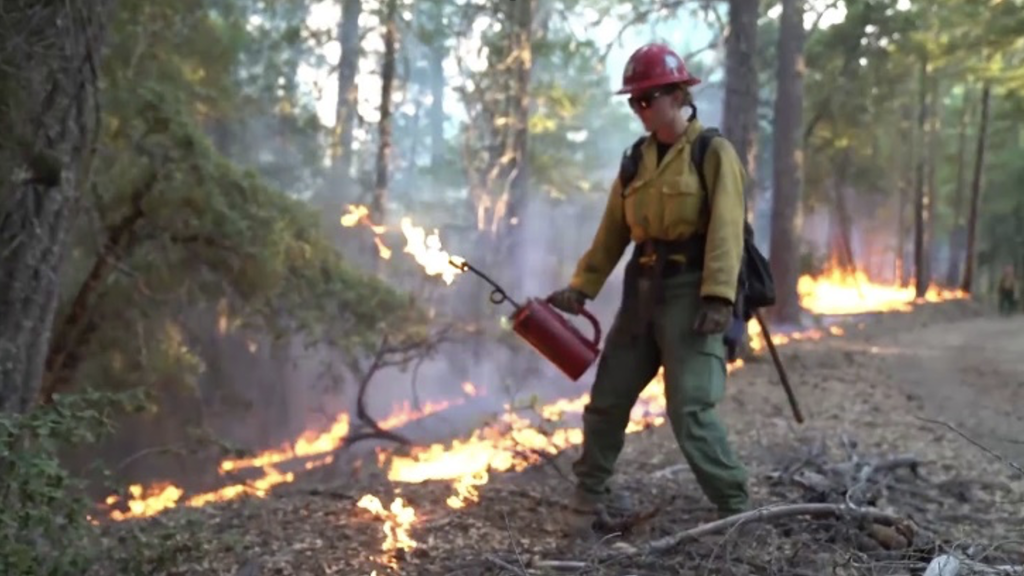 Forestry experts have known for decades what is needed to reverse the destruction and tree death.   The long-term impacts of total fire suppression, lack of undergrowth thinning, clearcutting timber production, and poor post-fire recovery with mosaic-structure tree planting has led to rapid deterioration of forest health and devastating, costly wildfires.   In 2018 the state developed a Forest Carbon Plan emphasizing scientifically proven strategies and a few small projects for restoration have been implemented.  High priority forests for implementation have been identified.  But a dramatic increase in the pace, funding, scale and collaboration among stakeholders, landowners and governance are all imperative.  Current rates of fuel reduction and restoration is vastly insufficient for wildfire prevention and forest resilience.
Ecosystem and watershed-based efforts offer the best approach with leadership provided by federal and state agencies, utilities, non-profit/ non-governmental agencies, and large private landowners in a collaborative manner.  For example, the Sierra Nevada Watershed Improvement Program (WIP) is a coordinated, integrated, collaborative current project that needs more investment.  Habitat for diverse wildlife also needs to be restored but has been hindered due to costs in both financial and time resources.  And while tribes realize all the same benefits from forests that "Westerners" do, they are impacted differently by forest changes over the past century. Traditional activities such as hunting, fishing, trapping, or gathering herbs sustain family and cultural knowledge with spiritual connections to the land.  Unfortunately, these are intangible values not widely understood by forest planners.
Organizational References
California Forest Climate Action Team, California Forest Carbon Plan – May 2018, Managing Our Forests in a Changing Climate
California Natural Resources Agency, Natural and Working Lands Climate Smart Strategy, Oct 11, 2021, resources.ca.gov/-/media/CNRA-webste.
National Park Service, Wildfires Kill Unprecedented Numbers of Large Sequoia Trees ,Feb 25,2022, nps.gov.
Public Policy Institute of California, The Benefits of Headwater Forest Management, Technical Appendix, PPIC.org/water.
World Resources Institute, Natural Infrastructure: Investing in Forested Landscapes for Source Water Protection in the United States, Oct. 15, 2013, www.wri.org/research/natural-infrastrucure.
Media References
Briscoe, Tony, Fears of a tipping point in forests, LA Times, 8/29/2022.
Mitchell, Russ, Urgent Call to Action, LA Times, 8/30/2022.
Yee, Gregory, Sister of lookout killed in McKinney fire sues utility, LA Times, 8/29/2022.
Read more articles by Elaine Buxton at her Substack: Search for Truth News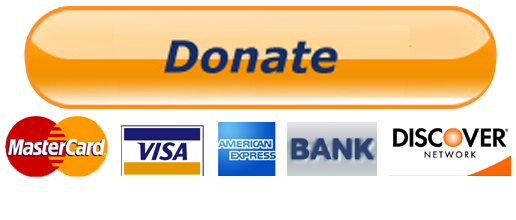 Your Tax Free Donations Are Appreciated and Help Fund our Volunteer Website and Orphanage
Disclaimer: We at Prepare for Change (PFC) bring you information that is not offered by the mainstream news, and therefore may seem controversial. The opinions, views, statements, and/or information we present are not necessarily promoted, endorsed, espoused, or agreed to by Prepare for Change, its leadership Council, members, those who work with PFC, or those who read its content. However, they are hopefully provocative. Please use discernment! Use logical thinking, your own intuition and your own connection with Source, Spirit and Natural Laws to help you determine what is true and what is not. By sharing information and seeding dialogue, it is our goal to raise consciousness and awareness of higher truths to free us from enslavement of the matrix in this material realm.