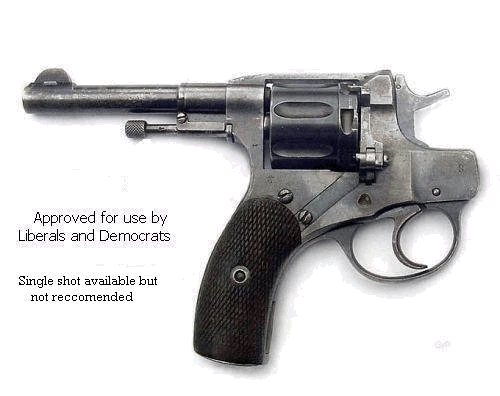 "I'm a pacifist. Enlightened, spiritually aware people shouldn't own guns."
"I'd rather be raped than have some redneck militia type try to rescue me."
"If people carry guns, there will be murders over parking spaces and neighborhood basketball games."
How often have you heard these statements from misguided advocates of victim disarmament, or even woefully uninformed relatives and neighbors?
Why do people cling so tightly to these beliefs, in the face of incontrovertible evidence that they are wrong?
Why do they get so furiously angry when gun owners point out that their arguments are factually and logically incorrect? How can you communicate with these people who seem to be out of touch with reality and rational thought?
One approach to help you deal with anti-gun people is to understand their psychological processes.
Once you understand why these people behave so irrationally, you can communicate more effectively with them.

Defense Mechanisms
Projection
About a year ago I received an e-mail from a member of a local Jewish organization. The author, who chose to remain anonymous, insisted that people have no right to carry firearms because he didn't want to be murdered if one of his neighbors had a "bad day". (I don't know that this person is a "he", but I'm assuming so for the sake of simplicity.) I responded by asking him why he thought his neighbors wanted to murder him, and, of course, got no response. The truth is that he's statistically more likely to be murdered by a neighbor who doesn't legally carry a firearm(1) and more likely to be shot accidentally by a law enforcement officer.(2)