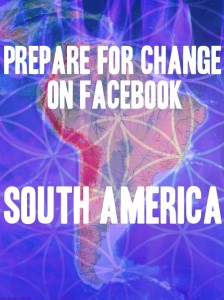 These are the Facebook Groups organized for Prepare for Change in South America.
If you do not find a group for your location you can create it and send it by e-mail to this address :

[email protected]



Or give us the link in a comment below. – Thank you !
Countries/Languages
      Cities/States/Regions
Prepare For Change – Argentina
Prepare For Change – Bahamas
Prepare For Change – Barbados
Prepare For Change – Bolivia
Prepare For Change – Brazil
    Prepare For Change – Brasília
    Prepare For Change – São Paulo
Prepare For Change – Vale do aço
Prepare For Change – Santos
Prepare For Change – Goiânia GO
Prepare For Change – Columbia
Prepare For Change – Costa Rica
Prepare For Change – Caribbean
Prepare For Change – Chile
Prepare For Change – Mexico City
---
Click here to go back to the main Event Support Group list page to see lists of groups on other platforms