The best temples serve as bridges between human scale and the macrocosm. When Beverly Spicer sent me the following image, something clicked and I understood the human body, the Sphinx and the Pyramids in a new way. I'm not sure which book this black-and-white geometric analysis of Pharaoh Rameses II was scanned from—it appears to be mirrored all over the Internet.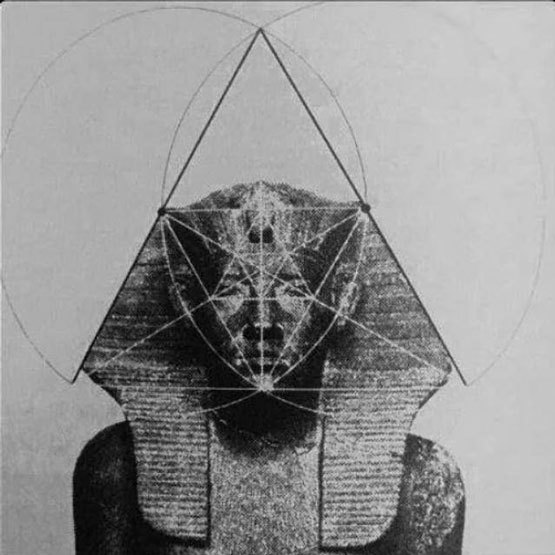 The nemes headcloth has distinctive, straight-edged folds, which imply an intersection point above the head. Nested equilateral triangles locate the pharaoh's third eye appropriately as an all-seeing-eye in the center of the triangle (like the eye of providence on the dollar bill).
That reminds me of an image I made recently. Here is essentially what I wrote about it on Facebook:
Beauty is experienced in the world, love in the body, and truth in the mind. The eye of horus in the center symbolizes the view of any observer. The transcendentals are ontologically one and thus they are convertible: e.g., where there is truth, there is beauty and love also. The transcendentals are irreducible qualities of awareness. The circle represents the seeming boundary between your interior sensations, thoughts, and perceptions and your exterior body, mind, and world.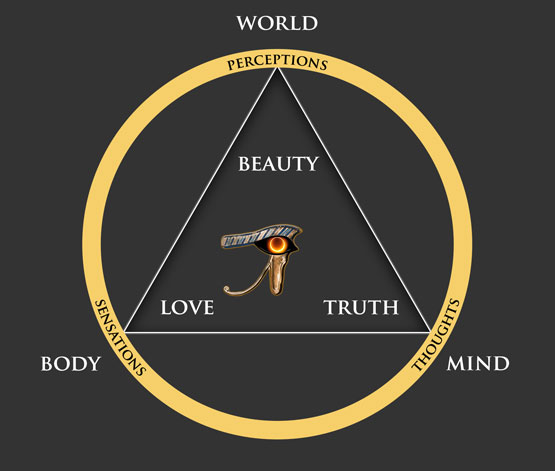 Just as the transcendental qualities of awareness (love, beauty, truth) are ontologically one, so too are the trinity of data types you experience. How far from your awareness are your sensations, perceptions or thoughts? Examine your experience and you will see that there is no distance.
Do the thoughts running through your mind take place in a fundamentally different place than the sensations of your body or your perceptions of the world? They are all convertible because all this data is experienced by awareness and yet we have no trouble identifying which channel the information flows through. There is a fundamental and irreducible trinity to awareness.
I now see this ontological trinity as the fountainhead of relationships such as Isis/Horus/Osiris, Mary/Jesus/Holy-Spirit, and even Neutron/Proton/Electron.
Following a hunch I wanted to see if the Sphinx's nemes followed the same pattern. I discovered that the pattern is similar but is also subtly different. The Sphinx's nemes doesn't imply nested triangles but the uraeus symbolizing the pharaoh's pineal gland is located in the center of the vesica piscis as indicated by the crossed red lines. Incidentally, I described how to draw this image step-by-step in the latest installment of my Photoshop User Magazine column, Beyond Photoshop.
Read More at: http://www.secretsinplainsight.com/2015/02/12/macrocosmic-harmony/