Leadership Post 12/8/2014 Newsletter: A Plea For Help And Unity Part I – We Need Your Help
I was hoping to focus my newsletter post for this week solely on the upcoming IS:IS Pt 2 Portal Activation, but as it turns out I have to start this in a different manner.  We need donation money – badly.  Over the past months, several problems have started with the website which have only increased in severity and frequency.  Our translation plug-in for WordPress "Transposh" has apparently never worked quite as well as we had hoped.  I've received several emails regarding this over the year, but only recently learned the extent of the problems it was causing
Moreover, two additional huge problems have occurred.  One is that our Meetup Everywhere "Prepare For Change" service has been discontinued unless we pony up a bit of money.  See the following text below:
We're reaching out about your Meetup Everywhere, Prepare for Change.
On December 1, 2014, our experimental "Meetup Everywhere" service will be discontinued.

(To be clear, the main Meetup platform, used by nearly 20 million people—and growing—is here to stay!)​

We see that you're an active Meetup planner, and we believe the tools available on the main Meetup platform will enable your community to continue to grow. If you're interested in migrating to the main Meetup platform, we're here to help. Learn more about that process here.

>If you have any questions, feel free to reply to this email.

Moreover, the participant provided us with this information:

"They wrote to me that Meetup Communities like PrepareForChange are to be "suspended" and they invite us to keep on by paying 10€ a month for the global Meetup site."
I personally plan to pay for this and get this fixed soon, but I am lacking in time to be able to research this matter.  My hope is to have the "Prepare For Change" Meetup working again within the next 3-4 days; the biggest issue on my end is figuring out whom to contact and pay.
The second technical issue is that our internal database is extremely massive and inefficient.  This will require a lot of cleanup work for our current IT person, and to do it right it will take time.  As of right now we cannot embed any images or downloads within posts or new pages, but we can still embed links and YouTube videos.  Hence, until this is fixed our posts will be a little bit more boring.
I have personally contributed a substantial amount since May and have nearly exhausted my available funds with which to pay for IT expenses to Prepare for Change.  Eduardo has also contributed generously in order to renew various website domain licenses and monthly services back in September.  Neither of us qualifies as 'rich', I would like to make a suggestion, if everyone reading this newsletter could make a donation, perhaps $5 or more to this website/newsletter via PayPal by using the "Donate" button in the upper right-hand side of the website's main page. Donations on a monthly basis would be greatly appreciated. Five dollars from a large number of people will help out greatly so we can begin to straighten out the various issues.
I will say that I am working on a multitude of ideas which will improve the user functionality of the website as well as bring in a bit more money over the long-term.  But these are still in the discussion phase and I cannot say more at present.
Lastly, I want to clarify one point from last week's newsletter:
"In addition to "Prepare For Change", "2012 Portal", "Fix The World" there are many other worthwhile projects which could use donations.  While I'm hesitant to promote additional websites and causes via PFC (simply out of respect for my colleagues), I can share those if anyone wishes."
The primary reason I did not promote any specific website is because we are not exactly 'healthy' regarding our finances, either.  I came to Prepare For Change in early 2014 because I felt it was the place where I could make the greatest impact toward planetary liberation.
There are many, many websites of lightworkers, whistleblowers, non-profits, bloggers, etc. where all of them need financial support to continue.  So many, in fact, that I have no idea how to prioritize them and feel I would do an injustice if I accidentally left out an important website or two.
Along this line, if you have extra money this holiday season, I would strongly consider throwing a few dollars toward those websites that you feel are making a positive impact in the world.  It is literally the best investment you can make toward a brighter future, because you are helping those on the front lines who are making a difference.  I do hope that all of you consider Prepare For Change to be one of those websites; we are working hard to fix many of our problems and to provide more of a service to those of you who follow us as well as Cobra.
Part II – Coming Together, Unity Consciousness, and the IS:IS Portal Activation Part II
This past Wednesday, Cobra posted an update on his blog regarding Part II of the IS:IS Portal Activation.  In my opinion, this is one of the most important mass meditation opportunities we will have.  Global events have proceeded to a point where it is much easier to see the light at the end of the tunnel.  Writers as disparate as Jim Willie and Preston James, PhD (Veterans Today) are now regularly providing updates which more closely align with Cobra's Intel with each passing month.  Even in the mainstream media cracks in the façade are becoming apparent – although only those who know what to look for really notice them.
For this reason, it is more important than ever that we have come together in a massive way to harness the incoming energies and anchor them into healing the planetary grid.  Back in April for IS:IS Pt I, Cobra stressed that the number of participants reached less than 50% of critical mass:
http://www.2012portal.blogspot.com/2014/04/isis-portal-report-and-window-of.html
I was not able to contribute 100% myself, as I was unclear as to the time of the activation and was somewhat awkwardly attending a social event while doing what I could to participate.  Even with split attention, the intensity of the energy was greater than anything I'd ever experienced before.
My belief is that if we reached critical mass (and more), that many of the mental and physical symptoms of duress which those of us who participated experienced would not be as severe.  This is due to what I call 'sharing the load'.  If more people participate, the burden on those who take part will not be as heavy.  If all of us could reach for the stars and declare our intention for Goddess energy to once again anchor on the planet, we will be undefeatable – the Chimera will have no power over us.
This upcoming Portal Activation represents the 6th of the seven Uranus-Pluto Squares over the years 2012-2015:
http://astrology.about.com/od/Uranus-Pluto/a/Uranus-Pluto-Quotes.htm
http://astrology.about.com/od/Uranus-Pluto/a/Breaking-Ground-Waking-Up.htm
We have one more coming on St. Patrick's Day next year.  Given the importance of Ireland in our awakening (per Cobra it was actually part of Atlantis) I find it to be quite appropriate that the last one takes place on that day.  But let's not wait that long.  Let's make the Event happen before then by participating to such an extent that we blow completely past the level needed for critical mass.  Please spread this information anywhere you can.  We all have blogs we follow who may be either unaware of Cobra or simply don't acknowledge the wisdom of his words.  Even those who don't fully believe and trust can make a leap of faith and join in the effort.
Forward this newsletter to anyone whom you think could potentially participate.  Given that this meditation takes place on a Sunday evening in the Western Hemisphere, there is absolutely no reason we cannot have a large turnout – especially in the United States.  Our country is the key.  We have become the bastion of Patriarchal domination and warmongering; our nation's government is likely the most hated on Earth.  To those of us who reside in this country, I urge you to take part and invite the peace-loving energies of the Goddess into our country – so instead of being reviled, we are once again loved and admired around the world.
This is our chance to do it – to finally break the control of the Archons/Chimera and their violent divide-and-conquer ways.  We can do this if we put our minds to it.  But first we must get the word out to anyone who will participate.  It is time for us to do this.  Please join in the effort however you can.  Spread the word, join the meditation, declare our desire for peace and male/female equality for the planet.
Namaste,
Nova Biscotti
---

Greetings Everyone,
This is Judi with the Media Group wishing you all many blessings in this beautiful holiday season.
I have been reading about cities of light and also information suggesting that this ties in with the Ancient Lemurian Continent.
I am from New Zealand, which apparently is a remnant of that Lemurian land and I have been fascinated to read stories about Lemuria.
This link that I am sharing with you has some interesting ideas about this place and the cities of light.
I hope you enjoy it…
http://thegoldenlightchannel.com/georgi-stankov-lemurians-announcement-to-humanity-agarthan-high-council-of-light-arrival-on-earth-surface-cities-of-light-will-manifest-on-earth-message-from-the-agarth/

Many people have been discussing what is termed "The Event".Our ground crew newsflash has even done an episode on the event.
https://prepareforchange.net/media-group-news-reports
About 1 year ago, Elizabeth Trutwin brought forth this message about what will be brought forth at the time of the event and what will happen immediately after and I thought I would share it with you this week.
http://cosmicascension.org/the-event/
Wishing you all a fabulous week.
As always, keep your eyes to the skies.
Warmest Aloha wishes,
Judi and Smally7, The Media Group Co-chairs.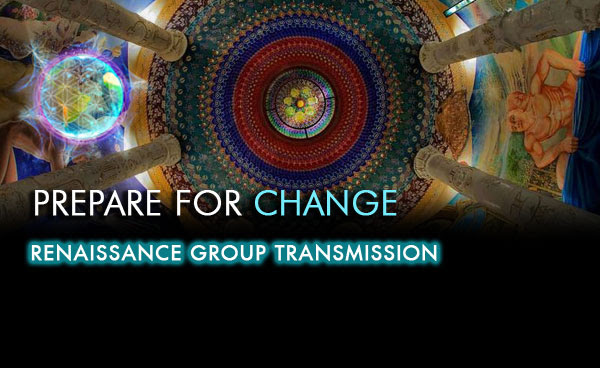 Greetings from Dov and Raissa of the Renaissance Group,
​Last night I attended an amazing performance by the Los Angeles Philharmonic, which included a Pictures at an Exhibition" by Mussorgsky. This piece, orchestrated by the master composer himself, Ravel, was brilliantly performed and took the audience an unprecedented satisfaction, and the end was almost the feeling of being at a rock concert.​
Maestro Gustavo Dudamel, the conductor of the Phil, delivered a high level of focus and delightful brilliance, sustaining the magic throughout the performance.  Each part was clear and joyous, percussion and strings, brass and woodwinds all delivered with virtuosity, and he conducted as usual with no music, almost dancing on the podium.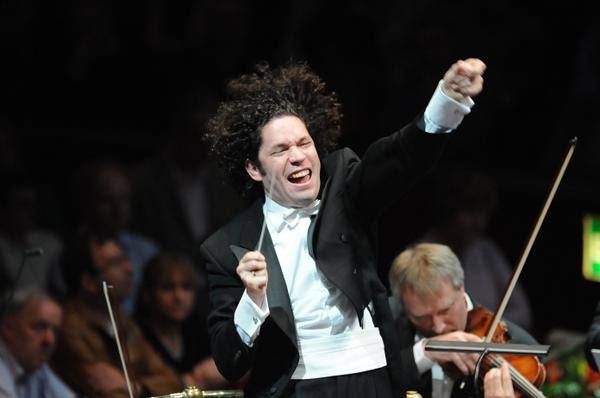 It was a triumph for player and audience, and to be in the midst of perfection for a while was truly inspiring.
To continue on with the art of the Tarot, a series of my artwork to go with the Tarot characters…
While the other Major Arcana are represented by whole numbers, The Fool, however, has been given the 0, and is somewhat out of the deck, either first or last, and it even may be considered the highest card, and represents his ability to navigate on or off of the field with grace and a sense of aloofness that gets him through. Here we have The Fool on the left entering the deck.
He is looking directly at his higher self, which emerges from the tree of life, calling him into the scene to take the Royal Road of life and learn the many lessons that await him. He is walking on a cloud, like a cliff that could be a precarious place to be, but he is agile and guided so he is safe.
He is carrying the Moon. The moon reflects all the emotions and through it he can experience the entire realm of experiences, as it takes us through all the signs of the zodiac each month. If he can carry it, and balance his emotions and stay with the lessons of each sign, he will reach his goal, finding way through the world and to the mate, his soul reflection that is waiting for him with open arms across the valley of lessons. We see the suits of the cards as well. The tree is the suit of wands, and he is wearing clothing of wands, his inspirations, while above him are three dolphins, which are the cups and they represent emotions and feelings, and they play nearby.
Thirdly are the spheres which are the material world needs and desires, which he notices below in the microcosm of a small world, or the past, which gives life the present, which is the sphere behind the woman where he is focused and the top is the macrocosm of the large world, which is above and is the future, the realization of his potential. Also we see the trinity of notes, which represent the swords in this deck, on behalf of the mind and thoughts, mental skills and insights.
His shadow is behind him, chasing him and taunting him to enter the scene, but the unformed shadow cannot really pull off the great leap into the Tarot World, and so The Fool greats the great animals as symbol of his instincts, and the clouds are his guardian dog to follow him through the journey, including meeting the lion and the lamb lying together, a great peace that will guide him forward as well. We also see and angel in the trees, another guide in the journey available to us.
The rising sun with leaping whale and dolphin show the unlimited potential available as he starts. He is taking a leap of faith and new goals are ready to be accomplished. This deck will help us to dream and tune in with the Earth, activating the spirit of the elements and awakening an awareness of the interplay between them.
Let us follow our unlimited potential in the coming weeks towards the New Year.
For a video of mine which shows a journey through the world of sacred places, click on this link to The Lost City.
The Magician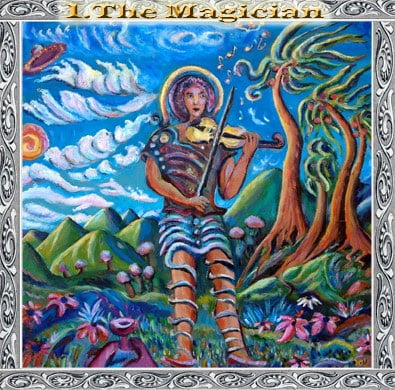 After the 0 card, this card is the first card in the deck, given number 1 status and is a very powerful card as well, for the Magician has powers that the Fool spends the rest of his journey to master.
Traveling along his rural path he comes to a being from a higher place, one who understands things he does not, including the ability to create magic with the elements. The Magician opens the eyes of The Fool card so that he is mystified by the wonders of the world and likewise desires to plug into the magic. He knows not about the steep roads and big challenges, the heartaches and the losses, the fears and the disappointments. He only sees the wonder and knows he wants to become magical himself. Visiting the magician is his chance to rise above the faith and trust he already has, and ponder the wonder of things, and it is not about the how he accomplishes, but about his belief system, and observing what is possible to accomplish in his life. He does not worry how complicated things are. He knows there is a secret magic, even if it will take long, even a lifetime, however, that is ok because the result is inevitable. Time to the Fool is irrelevant.
He sees there is a spaceship in the corner and realizes it may have some of the answers, but it is out of reach. The violinist appears to be from the spaceship, and his unusual garb certainly makes that possible. Most wizards and magicians do have unusual or flashy clothing, as do powerful performers on a stage.
The Magician is able to work with the elements of nature and forces unseen to create his desired outcome…the way the spaceship defies our expectations. The infinity sign above his head is a symbol that he is connected to the infinite, and therefore the path of the Magician follows along the laws of nature to create mystical, if not magical results. His cup is shown below and dolphins in the clouds show he is aware of his feelings. Whether he is collecting droplets or containing his secrets, we are not sure of and that starts to stir our imagination. Is he playing to move the heavens, and create events that will ultimately fill the cup? Or was what is in the cup activate his magic?
This is the secret of the magician is how he is able to combine the elements in order to create his desired outcome.
It is truly an age of miracles, and here is a link to a magical song… with video…
See you in the new Renaissance!
Best wishes from Dov

The Age of Miracles..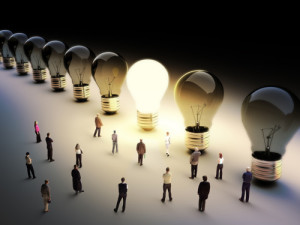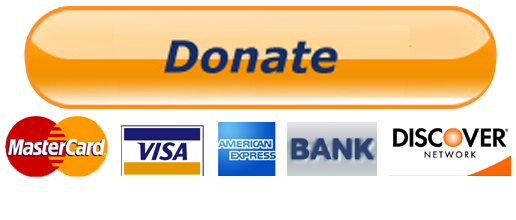 Your Tax Free Donations Are Appreciated and Help Fund our Volunteer Website and Orphanage
Disclaimer: We at Prepare for Change (PFC) bring you information that is not offered by the mainstream news, and therefore may seem controversial. The opinions, views, statements, and/or information we present are not necessarily promoted, endorsed, espoused, or agreed to by Prepare for Change, its leadership Council, members, those who work with PFC, or those who read its content. However, they are hopefully provocative. Please use discernment! Use logical thinking, your own intuition and your own connection with Source, Spirit and Natural Laws to help you determine what is true and what is not. By sharing information and seeding dialogue, it is our goal to raise consciousness and awareness of higher truths to free us from enslavement of the matrix in this material realm.